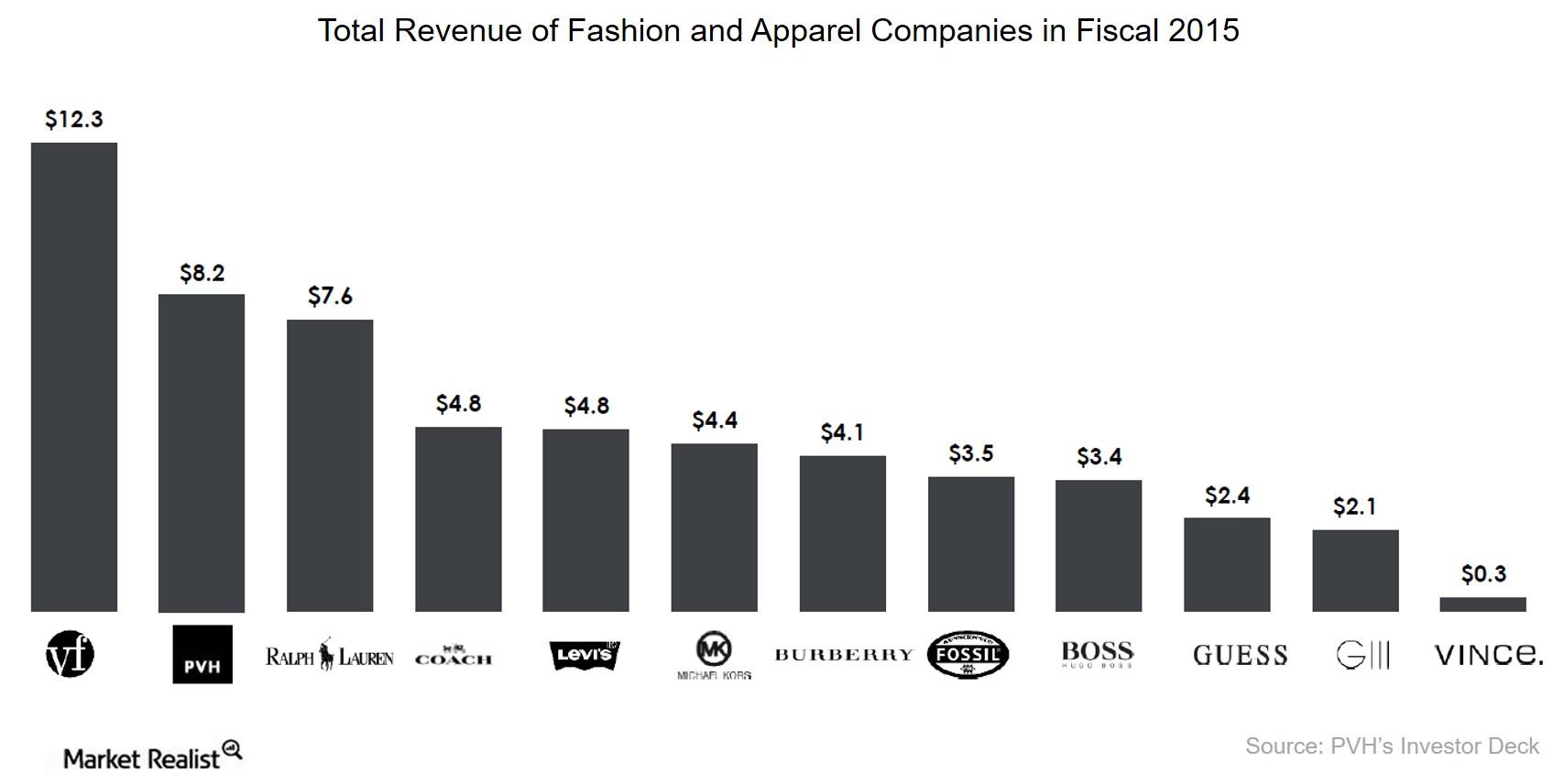 Introducing Ralph Lauren: Everything You Need to Know at a Glance
Snapshot
Ralph Lauren (RL) is the third-largest branded apparel company (by revenue) in the US, trailing VF Corporation (VFC) and PVH Corporation (PVH). RL has successfully maintained the strength of its brand and has grown its business at a compounded annual growth rate of around 9% over the past ten years.
The company has a broad customer appeal with a diversified portfolio of brands. It offers products at various price points that range from discount products like Chaps to luxury brands like the Ralph Lauren Collection. Its target customers include men, women, and kids. The company's offerings include apparel, accessories, fragrances, and home furnishings.
Article continues below advertisement
Recent financial performance
But RL's financial performance has been unimpressive over the past two or three years as the company has been forced to operate in a more competitive retail environment on account of higher promotional selling.
RL's Wholesale and Retail segments, which account for ~98% of total revenue, have been under pressure. These businesses suffered on account of weaker tourist traffic and unseasonably warm weather conditions in the US. Slowing sales along with a stronger US dollar have put RL's margins under pressure. The company's trailing twelve-month operating margin stands at 9.5% as compared to its 15% average operating margin between fiscal 2011 and fiscal 2015.
RL trims fiscal 2016 outlook
Ralph Lauren recently trimmed its fiscal 2016 revenue and profit forecasts. The company now expects a 3% decline in sales as compared to its previous flat sales growth expectation. Its fiscal 2016 operating margin is now estimated to be 290–320 basis points below the prior year's level as compared to the previous expectation of a decline of 180–230 basis points.
Article continues below advertisement
Valuations
Unimpressive past performance and a bleak outlook on sales and margins have pushed Ralph Lauren's valuations down. The company, which traded at an average earnings multiple of 21.6x in 2013, is currently trading at a one-year forward PE (price-earnings multiple) of 15.4x (as of April 15,2016). At this valuation, Ralph Lauren is cheaper than VF Corporation (VFC), Coach (COH), and Kate Spade (KATE), which are currently trading at 19.7x, 19.3x, and 32x, respectively. RL is slightly more expensive than Hanesbrands (HBI) and PVH Corporation (PVH), however, which are trading at 14.7x and 14.8x, respectively.
Investors interested in exposure to Ralph Lauren can consider pooled investment vehicles like the iShares Morningstar Mid-Cap ETF (JKG), which invests 0.36% of its portfolio in the company.
In this series
In this series, we'll provide a business overview of Ralph Lauren and its operations. We'll analyze its key future growth drivers, compare its past returns performance with peers, identify sources of future upsides, and discuss its stock market performance and valuations.
Let's start with Ralph Lauren's history, businesses, and competition.