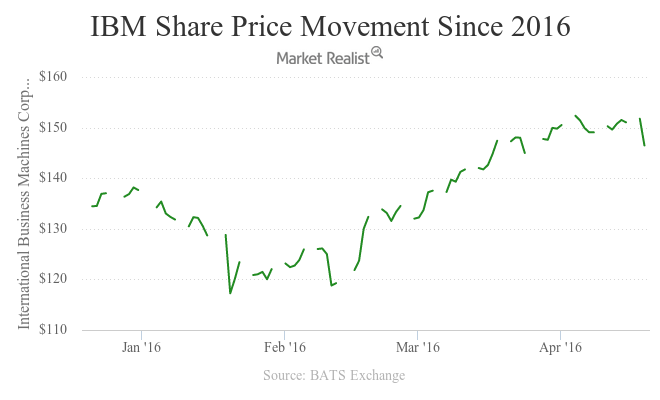 Why Did IBM Stock Fall after Its Fiscal 1Q16 Results?
Investor confidence in IBM stock plummets after 16 straight quarters of revenue decline
Previously in the series, we looked at IBM's (IBM) fiscal 1Q16 results. Despite exceeding analysts' estimates, IBM stock fell ~6% after the earnings announcement on April 18, 2016. This is because fiscal 1Q16 marked 16 straight quarters of revenue decline for IBM.
IBM's earnings quality has also come under scrutiny. A team of Deutsche Bank analysts headed by Sherri Scribner pointed out, "A closer look shows results were generally of low quality, with more than half of the EPS beat coming from a tax benefit."
As a result, IBM stock, which got a boost from Morgan Stanley's (MS) improved pricing target and reached one of its highest peaks in March 2016, fell.
[marketrealist-chart id=1228202]
Article continues below advertisement
IBM stock rally that began in February 2016 stopped with fiscal 1Q16 results
For the last couple of quarters, IBM stock has tended to decline after earnings announcements. It's not difficult to see that IBM's steadily declining revenue growth is the reason behind this decline. IBM stock touched a five-year low in late 2015. Following its fiscal 4Q15 results, the stock fell to one of its lowest levels since 2011.
However, IBM stock recovered in February 2016 and was on its way up. March 2016 turned out to be the best month for IBM stock in more than a decade. But the rally seems to have stopped after the company's fiscal 1Q16 results.
The following contributed to IBM's falling revenues:
strengthening of the US dollar in 2015
In the next part of the series, we'll see how the fall in IBM stock has affected the Dow Jones Industrial Average.