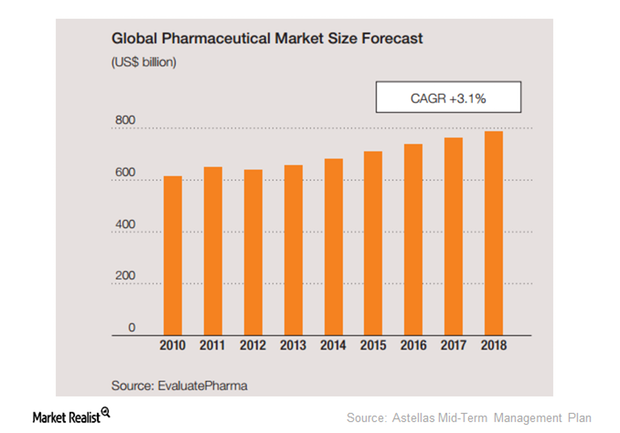 How Is the Global Pharmaceutical Industry Doing?
Global pharmaceutical market
As per a Moody's article dated March 3, 2016, the global pharmaceutical industry is expected to be stable. The rating agency has changed its outlook for the industry from positive to stable.
Major reasons behind the changed outlook are "lower pricing flexibility, the stronger US dollar and slower adoption of some new products." As per Moody's, the industry is expected to grow by 3%-4%.
Article continues below advertisement
Challenges for the global pharmaceutical industry
Some of the challenges the pharmaceutical industry faces include R&D (research and development) failures, changes in regulatory aspects, litigation, patent expiries, and foreign currency movements.
However, the major challenge is the drug pricing, which has been a major global debate. As baby boomers age, the population over 65 is increasing. A higher incidence of lifestyle-related diseases is further fueling governments' healthcare expenditure.
The governments across the world are trying to curb these healthcare costs either by drug price revisions, asking for higher discounts and rebates to the manufacturers, or by promoting generic drugs.
However, with the launch of innovative drugs, pharmaceutical companies can bring in sales growth. The industry growth is driven by specific business such as immune-oncology. With increasing prevalence of cancer, oncology drugs are expected to witness strong demand. The life-saving abilities of these drugs fetch higher prices and wider margins.
Pharmaceuticals and biotechnology companies are growth-driven industries. Thus, these companies experience volatility following their pipeline successes or failures and the entry of generic or biosimilar drugs. To avoid such direct risks, you can look at ETFs. Major ETFs that invest in pharmaceutical companies include the Market Vector Pharmaceutical ETF (PPH), the iShares U.S. Pharmaceuticals ETF (IHE), the SPDR S&P Pharmaceuticals ETF (XPH), and the PowerShares Dynamic Pharmaceutical Portfolio (PJP).
PPH, launched in December 2011, holds Pfizer (PFE), Sanofi (SNY), Merck (MRK) as its major holdings. Pfizer, Sanofi, and Merck make up ~5.5%, ~5.5%, and ~5.4%, respectively, of the fund's total assets. Bristol-Myers Squibb (BMY) forms 4.9% of its total holdings.
In the next part of the series, we'll look at the Japanese pharma market and its global position.