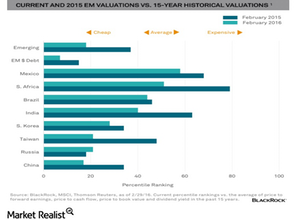 Emerging Market Valuations Cheapen Compared to Developed Markets
By Tushar Yadava

Updated
Relative valuations
Emerging markets stocks have seen declines in relative valuations over the last year, and are well below historical norms. Investors looking to increase their broad EM allocations could consider a broad stock fund or a broad stock minimum volatility fund.
And among EM economies, valuations in Taiwan, Russia and China are each significantly well below their historical averages.
Article continues below advertisement
Market Realist – Emerging markets look attractive
The recent correction makes emerging market valuations very attractive. PE (price-to-earnings) is one of the most popular ways to measure value in the stock market. And since prices have come down drastically, so have PE multiples. The S&P 500 is currently trading at a PE multiple of 16.7x while small-cap stocks are trading at a much higher valuation of 23.8x. Similarly, the global (IEFA) (ACWI) benchmark MSCI ACWI Index trades at a PE multiple of 17x. In contrast, the MSCI Emerging Market Index is trading at a PE multiple of just 11.3x. In the emerging markets (EEM), countries like China (FXI), Taiwan, and Russia offer a compelling forward PE of 8.6x, 6.8x, and 12x, respectively.
Even on the earnings yield basis, emerging markets look attractive with a yield of 8.4% compared to 6% for the S&P 500 and 6.7% for the MSCI EAFE Index. The emerging markets look attractive not only from the capital appreciation perspective but also due to higher dividend yields. The MSCI ACWI offers a dividend yield of 2.8% compared to 3.0% for the MSCI Emerging Markets Index. Countries like Russia, Taiwan, and China offered even higher dividend yields of 4.7%, 4.2%, and 3.2%, respectively. Given the attractive valuations in emerging (IEMG) markets, investors may see higher returns in the long term.