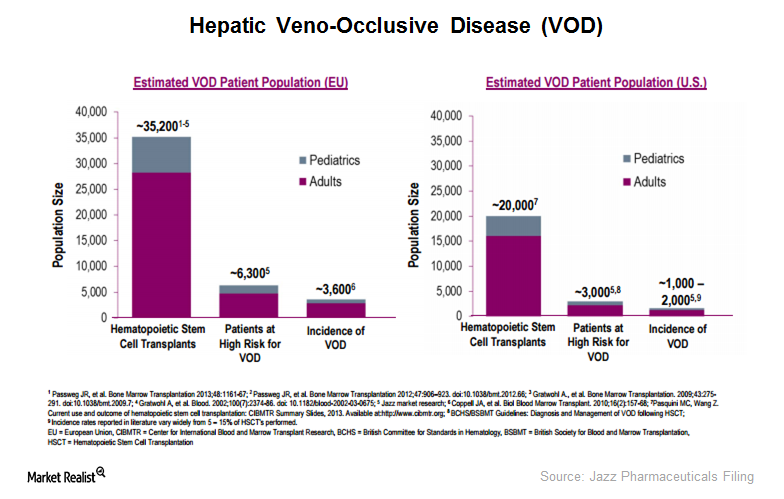 Defitelio: Volume and Pricing Challenges
Veno-occlusive disease
Veno-occlusive disease (or VOD) is an ultra-rare disease with a high unmet need. Each year there are ~20,000 and ~35,200 hematopoietic stem-cell transplants (or HSCTs) in the United States and the European Union. Of the 20,000 US patients, ~3,000 patients are at high risk for VOD, and ~1,000–2,000 patients will eventually experience it.
Jazz Pharmaceuticals' (JAZZ) Defitelio is the first and only approved treatment that increases survival in VOD patients with multi-organ dysfunction (or MOD).
VOD with MOD has high mortality rates. For enhanced penetration of the drug, Jazz further plans to communicate the value of the drug to institutions.
Article continues below advertisement
Pricing challenges for Defitelio
The wholesale acquisition cost of the drug is ~$825 per 200-milligram or 2.5-milliliter vial. Based on the recommended dose, the daily price for the medicine is ~$7,425. However, as the drug targets a smaller population, it has a smaller impact on hospitals' budgets.
When a patient who has undergone HSCT develops VOD with MOD, the cost to the transplant center increases by 2.5 times. As VOD with MOD is costly to manage, the incremental cost per HSCT patient after using Defitelio is $7,000 in adult patients and $1,000 in pediatric patients. This makes the drug a cost-effective intervention.
Costlier medicines include BioMarin's (BMRN) Vimizim and Naglazyme, Shire's (SHPG) Elaprase, and Mallinckrodt's (MNK) Acthar. As these drugs target orphan diseases, the companies can charge premium prices for them. To get exposure to Jazz Pharmaceuticals and control excessive company-specific risks, investors could invest in the Vanguard Growth ETF (VUG). Jazz accounts for 0.10% of the fund's total holdings.