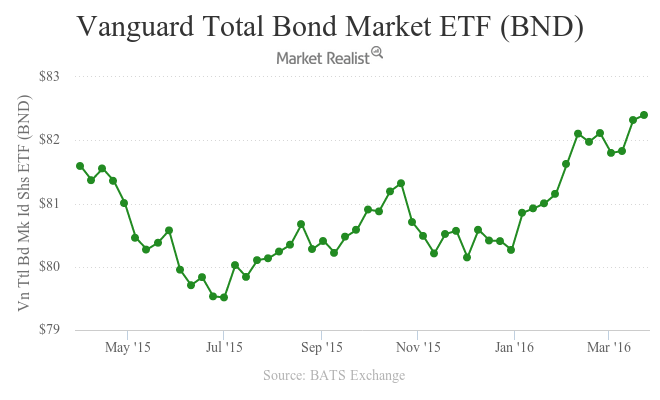 The Challenges of Managing a Fixed-Income Portfolio in 2016
By Surbhi Jain

Apr. 5 2016, Updated 11:07 a.m. ET
The challenge is to make money
In today's low-yield environment, the challenge is to make money since financial assets aren't generating sufficient returns. Bonds not returning anything doesn't mean there's no risk. According to Bill Gross, even a 30-year Japanese (EWJ) government bond (or JGB) has duration, but it has a 0% return. So how do you manage your fixed-income portfolio?
[marketrealist-chart id=1184285]
Article continues below advertisement
Gross is selling volatility
Gross's unconstrained fund strategy at Janus Capital (JNS) isn't investing in ten-year Treasuries (TLT) or ten-year JGBs. Instead, it's selling volatility around it, which generates four to five times the yield, with obvious risks but lower than the Market. Gross says it's important for investors to "take care of their liquidity." They should have their exit options open in their fixed-income portfolios.
Currently, all financial instruments, be it bonds, stocks (SPY), mutual funds, or something else, have liquidity concerns. Therefore, their prices should be lower and their yield spreads higher.
Gross highlights the challenges facing the bond market
"All the developed market bonds are artificially priced," said Gross. About 40% of the AA/AAA market is in negative yield. There's risk in emerging market debt (EMB) in countries such as Brazil (EWZ). Bonds (AGG) (BND) are relatively unattractive. However, Janus's unconstrained bond strategy is using an equity arbitrage kind of situation to produce a 4%–5% return.
Read on to learn more about this strategy.