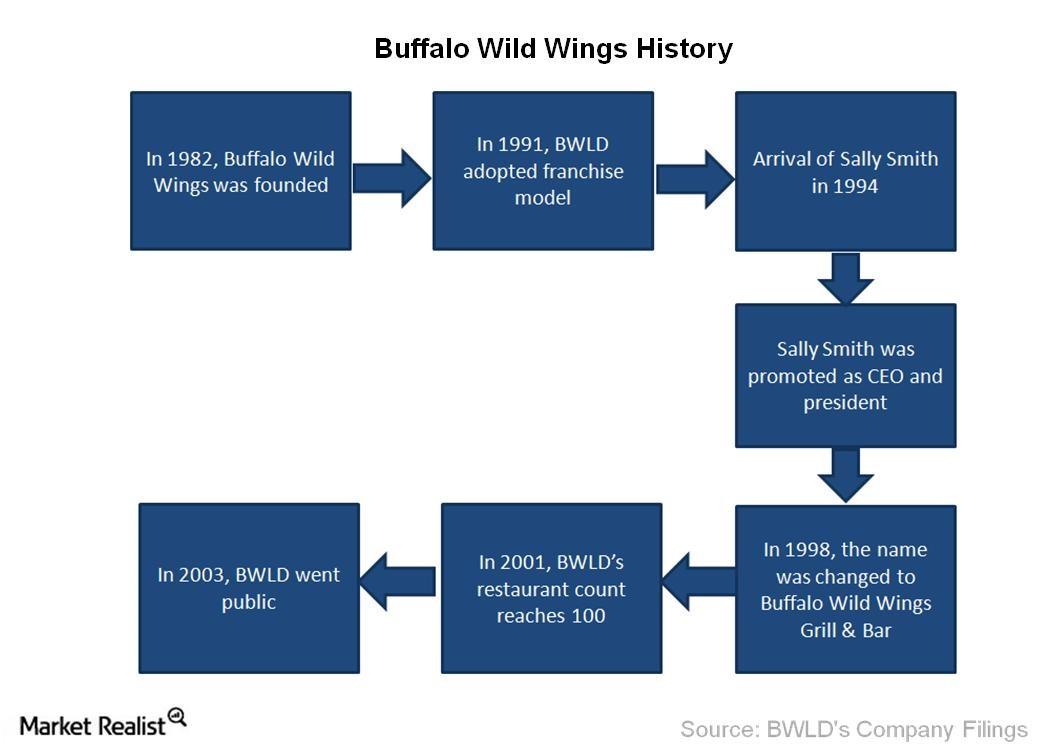 How Did the Buffalo Wild Wings Concept Come About?
By Rajiv Nanjapla

Apr. 19 2016, Updated 12:36 p.m. ET
Early history
After moving from Buffalo, New York, to Columbus, Ohio, Jim Disbrow and Scott Lowery were unable to find authentic "buffalo" chicken wings, which prompted them to start a restaurant in 1982. The restaurant, which was originally named "Buffalo Wild Wings & Weck," was located near to the campuses of The Ohio State University and served chicken wings with "buffalo-style" sauces.
Sensing the demand for its products and the revenue it brought, the founders decided to expand by opening new restaurants in other Midwest college towns. By 1991, the company had expanded to seven restaurants, with new ones in Ohio, Colorado, and Indiana. The company's chicken wings, its variety of beers, and the sports channels running on multiple television sets in BWLD's restaurants became wildly popular with students.
Article continues below advertisement
Adoption of franchising
In 1991, Buffalo Wild Wings (BWLD), which forms 0.86% of Guggenheim S&P MidCap 400 Pure Growth ETF (RFG), started franchising. Within three years, the company's restaurant count increased to 35.
However, this expansion did not yield the results the company was expecting. The company's debt levels increased, and it was unable to repay its debt—until Sally Smith was appointed as the company's chief financial officer.
After arriving at the company, Smith closed down many of the underperforming restaurants and set up an infrastructure for accounting, marketing, finance, and human resource departments. The company's condition slowly improved, and Smith became BW3's Chief Executive Officer.
A wide array
With the intention of gaining acceptability among a wide array of customers, Smith redesigned the BWLD's restaurant buildings, changing them from a college bar format to that of a sports bar and grill. In 1998, the company was renamed as Buffalo Wild Wings Grill & Bar. By 2001, the company's annual revenue had reached $150 million, and its restaurant count was increased to 140. To support future growth, the company went public in 2003 (which we'll discuss in the next part).
The origin of BWLD's peers, such as Brinker International (EAT), Bloomin' Brands (BLMN), and Texas Roadhouse (TXRH) dates back to 1975, 1987, and 1993, respectively.