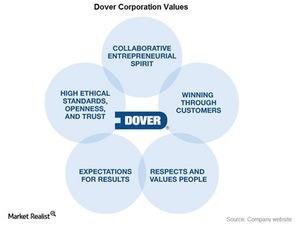 Understanding Dover Corporation's Corporate Profile and History
Company profile
Dover Corporation (DOV) is a machinery manufacturer that operates in four diverse segments: Energy, Engineered Systems, Fluids, and Refrigeration & Food Equipment. The company's competitors differ across the business units.
Dover's competitors include General Electric (GE), Danaher Corp (DHR), Siemens AG (SIEGY), Ingersoll-Rand (IR), and Illinois Tool Works (ITW). The company's customers are mostly in the oil and gas (XOP) and industrial (XLI) end markets. Its retail customers are primarily confined to the refrigeration business. The company channels its sales directly to customers through various distribution channels.
Article continues below advertisement
A brief history
Dover Corporation (DOV) was incorporated in the 1940s when George Ohrstrom bought four companies and put them under one roof. The company went public in 1955 with Fred Durham, the owner of one of the acquired companies, as its first CEO.
Durham emphasized a decentralized corporate culture, noting that "a business, like any other human enterprise, thrives best where creativity and initiative are encouraged in an atmosphere of maximum autonomy." This is a philosophy that the company follows even today.
Each unit operated with an independent president and a board of directors until 1985, when the management structure was reconfigured to account for its growing complexity. However, acquired companies still retain their autonomy, which is unique to Dover's corporate culture.
Acquisitor-in-chief
Dover Corporation began acquiring businesses just three years into its incorporation in 1955. The company entered the elevator business by acquiring Shepherd Warner Elevator Company in 1958, a business that the company held until its divestment from 1997–1999.
The company had a commanding position in the North American elevator industry for years, trailing just Otis and Westinghouse until it underwent a slow decline and eventually met its demise. In 1961, the company acquired Ohio Pattern Work, which manufactures nozzles in gas stations and fluid handling equipment.
By the mid-1980s, Dover had acquired 40 companies and added 25 more from 1985–1988. The company continues to persist with this strategy, acquiring 11 companies in just the last two years. We will discuss some of the company's recent acquisitions in Part 13 of this series.