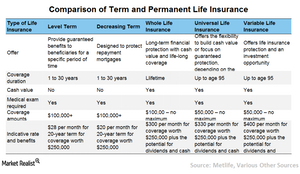 How to Pick a Life Insurance Policy
Term life is the most simple insurance product
Term life insurance provides guaranteed benefits to beneficiaries for a specific period of time in case of the sudden death of the insured person. For example, a 20-year term policy would provide insurance coverage for the next 20 years. The maximum duration of term life is 30 years while the minimum could be one year. Term life insurance (IAK) (KIE) can be very helpful in supporting a family's sudden loss of income, cover short-term debts, pay off a mortgage, or fund education. On the other hand, decreasing term mainly provides protection against mortgage debt. Term life insurance (PRU) (MET) doesn't offer any additional benefits like cash value accumulation.
Article continues below advertisement
Whole life insurance provides additional benefits
In addition to life insurance (IYF) coverage, permanent life also provides cash value benefit. Cash value is nothing but a saving vehicle in which a portion of the premium payments is credited for the benefit of the policyholder. As the cash value accumulates, it can be withdrawn after a specific period or an amount can be borrowed against it. However, such borrowing leads to a decline in death benefits. The cash value normally earns a money market rate.
Traditional whole life insurance: Premium and death benefits remain the same every year throughout the life of the policy.
Universal life insurance: Policyholders have the choice of altering premium payments every year if the cash value account has enough balance to cover the policy costs. This can be a useful feature if the policyholder's economic situation changes suddenly. The earnings vary depending on balance in the cash value account. Due to the flexible nature of premiums, universal policies earn more than whole life in some years but less than whole life in other years.
Variable life insurance: In variable life insurance, a part of the policyholder's premium is invested in stocks, bonds, and money market mutual funds to generate higher death benefits and cash value. However, if the investments don't perform well, the cash value and death benefit may fall. Nevertheless, some policies guarantee a minimum level of death benefits even if the portfolio investments don't generate adequate returns.