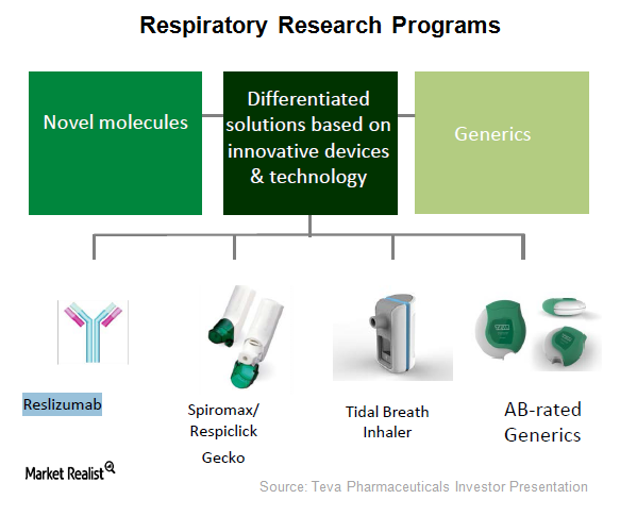 Teva's Asthma Segment: What Could Boost Its Revenues in 2016?
Respiratory portfolio
In 2016, Teva Pharmaceutical Industries (TEVA) expects to strengthen its respiratory portfolio through commercial launches of investigational drugs reslizumab and Fluticasone Salmeterol Spiromax. Additionally, based on positive results from phase 3 clinical trials, Teva has also planned to submit applications for the review of Fluticasone Propionate/Salmeterol, Fluticasone Propionate in Multidose Dry Powder Inhalers, and Qvar breath-actuated inhalers for patients suffering from asthma, in the second half of 2016.
Article continues below advertisement
Article continues below advertisement
Reslizumab
On March 23, 2016, the FDA approved Cinqair (reslizumab) as a maintenance therapy for patients with severe asthma. The company expects to launch this drug in the US market in the second quarter of 2016. The drug is also expected to obtain regulatory approvals in European markets in the third quarter of 2016.
According to data from the World Health Organization, about 235 million people in the world suffer from asthma. Global Initiative for Asthma projects than 100 million more people will fall prey to asthma by 2025. About 20% of the total asthma population suffers from a severe form of the disease, while 10% of the population is afflicted by uncontrolled asthma despite regular medication. These facts indicate that there is a substantial market opportunity available for the growth of reslizumab's revenues.
On account of its strong research programs, Teva is expected to prove tough competition for other respiratory players such as GlaxoSmithKline (GSK), Merck (MRK), and Pfizer (PFE).
Business strategy
Teva has created a strategy to focus on severe asthma patients because there is a significant unmet demand in this segment. The company has decided to leverage e-connectivity to obtain feedback from patients related to the products they use as well as their lung function. This will help doctors to manage or even prevent asthma attacks and help control costs for the payer community.
For asthma patients who do not require maintenance therapy, Teva has planned to launch generic versions of its branded products.
If Teva manages to succeed in its respiratory portfolio strategy, this could boost the share prices of the Vanguard FTSE All-World ex-US ETF (VEU). Teva accounts for 0.17% of VEU's total portfolio holdings. In the next part of this series, we'll explore Teva's research programs in its pain segment.