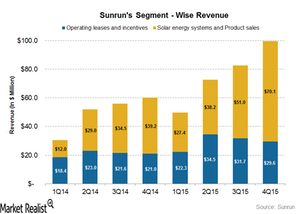 How Does Sunrun Make Money?
By Sheldon Krieger

Mar. 31 2016, Published 10:03 a.m. ET
Sunrun's revenue generation model
Sunrun's (RUN) business model is divided into two revenue segments: Operating Leases and Incentives, as well as Solar Energy Systems and Product Sales. Combined, the two segments span the complete value chain of the residential solar service model.
Article continues below advertisement
Operating Leases and Incentives segment
Revenue under the Operating Leases and Incentives segment mainly includes proceeds from customer agreements, solar energy system rebate incentives, and sales of SRECs (Solar Renewable Energy Certificates). It also includes revenue associated with ITCs (investment tax credits) assigned to investment funds that are classified as lease pass-through arrangements.
Customer agreements can be of two types: solar lease agreements and power purchase agreements (or PPAs). In a solar lease agreement, the company receives a fixed monthly payment from the customers for using the solar systems installed on their premises. In a PPA, it receives a fixed payment per kWh of power generated by the system.
In both forms of customer agreements mentioned above, Sunrun (RUN) owns and maintains the installed solar systems. As a result, the company is eligible for federal tax credits, state tax credits, and other incentives, depending on the state where the installations are made. If the project is funded by an outside investor, the benefits will go to the investors who financed the project.
However, customers can benefit from gaining electricity credits through the net metering system.
Solar energy systems and product sales
Revenue under this segment mainly includes proceeds from the sale of solar (TAN) panels, inverters, racking systems, and other solar-related equipment to resellers. The company also receives revenues from customer leads to third parties, including Sunrun's partners and other solar providers. The customer will own the solar system and would be eligible for federal tax credits, incentives, and state tax rebates.
Extension of ITCs for investments in solar energy has been key for the rapid expansion of downstream solar companies like Sunrun, Vivint Solar (VSLR), SolarCity (SCTY), and SunPower (SPWR).
In the next part of the series, we'll know about various tax credits, incentives, and rebates available for owners of solar panels.