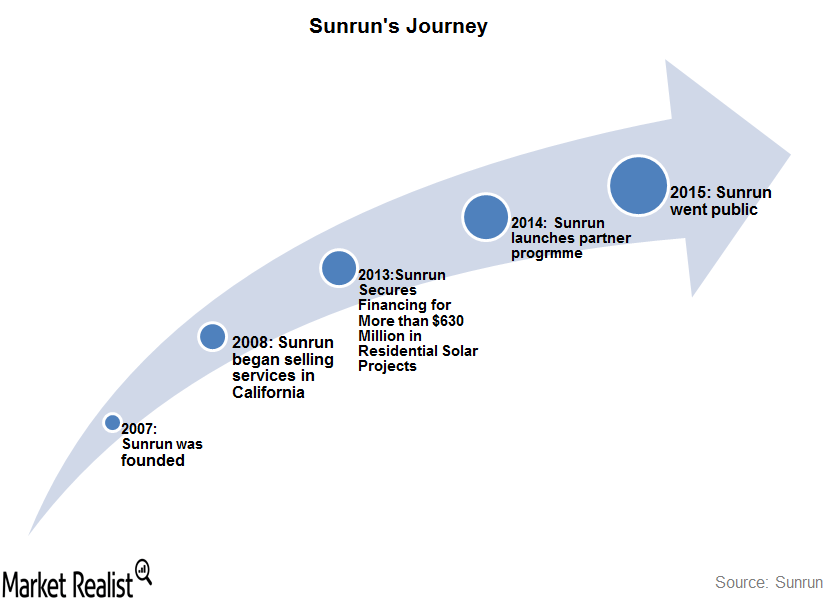 Sunrun: The Beginning of a Residential Solar Major
Global solar power industry
In February 2015, Market Realist published a comprehensive overview of the global solar power industry. We looked at the history of solar power (TAN), its applications, and a comprehensive overview of the solar power industry.
We also looked at key markets and the potential for solar energy in the coming decades, as forecasted by the IEA (International Energy Agency) and the European Photovoltaics Industry Association.
Article continues below advertisement
A brief history of Sunrun
Sunrun was co-founded in 2007 as a startup by Ed Fenster and Lynn Jurich, with an aim to create worldwide use of solar energy. It began offering solar services in 2008. The company has grown more than ten times its original size between 2008–2014 in California, the company's largest market.
In 2014, the company officially launched its partner recognition program to expand its reach in new areas. In August 2015, Sunrun went public and at the end of October 2015, Sunrun had more than 100,000 customers receiving its services.
Series overview
In this series, we'll take a comprehensive look at Sunrun's (RUN) business model, as well as the key products and services offered by the company. Then we'll analyze how the company expanded its business, its key operational metrics, and financial positions that are important for investors.
This series will help investors learn the key aspects that set Sunrun apart from its key competitors, Vivint Solar (VSLR), SolarCity (SCTY), and SunPower (SPWR).
Toward the end of the series, we'll discuss the outlook for Sunrun. We'll find out how the company's current valuation looks, as well as what factors could drive its valuation multiples in the future.