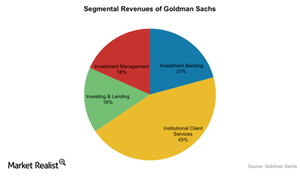 What Is the Rationale for the Honest Dollar Acquisition?
By Rebecca Keats

Mar. 17 2016, Published 11:35 a.m. ET
Goldman Sachs buys tech startup to expand asset management business
Goldman Sachs (GS), the investment banking mammoth, bought into a small Texas-based financial technology provider Honest Dollar earlier this week. Honest Dollar is in the business of organizing pension plans for small companies and self-employed workers. Goldman Sachs says the acquisition is part of its continuing effort to boost its asset management business, which is generally considered lower risk than investment banking or trading. The asset management business contributes 18% to total revenues of Goldman Sachs.
Article continues below advertisement
A win-win
Bigger banks (KBE) are poised to benefit from startups owing to their expertise. Startups, on the other hand, stand to gain from greater funding and extensive clientele that larger institutions offer. It seems banks have pinpointed innovation as the key to the future of financial services, and much more than an opportunity to cut costs. Honest Dollar forms a category of fintech startups that offer a cheaper, automated method of doing something that traditionally consumes a lot of time.
Goldman Sachs does not have a large network of wealth management advisors like its peers Morgan Stanley (MS) and Bank of America (BAC), but it clearly has found a good opportunity to tap this space through Honest Dollar. According to a release by Goldman Sachs, nearly 45 million Americans currently do not have an employer-sponsored retirement plan, thus creating a large savings gap. This is partly due to high costs involved in offering such plans, both in terms of time and money. Honest Dollar says its individual-retirement-account-based program can cost as little as $8 per employee per month and that employers can sign up in just 90 seconds.
The platform recommends one of six portfolios to each employee based on his or her answers to questions during the sign-up process, which the company says takes 60 seconds. The portfolios are made up of four low-cost Vanguard ETFs (VTI). Such fintech startups use automated tools and algorithms to devise an investment strategy for investors at a very low price compared to traditional wealth advisors. They are designed specially to perform asset allocation and devise investment strategies for small investors who cannot afford personal investment advisors.
However, some are of the view that these fintech startups are posing a threat to banks. Continue to the next article to read Jamie Dimon's view on fintechs.