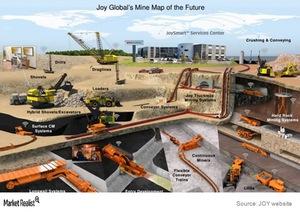 A Quick Look at Joy Global's History and Operations
Joy Global's business
Joy Global (JOY) is a leading manufacturer and servicer of high productivity mining equipment for the extraction of metals and minerals. The company manufactures and markets original equipment and parts and performs services for underground mining, surface mining, and other industrial applications.
The company operates in two business segments, namely its Underground Mining Machinery and Surface Mining Equipment segments. Each segment has a strong brand and a leading position within its respective market. The Underground and Surface segments contributed around 54% and 46%, respectively, to JOY's consolidated revenues for 2015.
JOY's equipment is used in major mining regions throughout the world. It's used in mining coal, copper ore, iron ore, oil sands, gold, and other minerals and ores. At present, the company serves customers in nearly 150 locations in 20 countries and employs approximately 13,000 people worldwide.
The global mining equipment industry consists of a large number of multinational corporations. These include Caterpillar (CAT), Komatsu, Hitachi Construction Machinery, Sandvik, and Atlas Copco. These players have dominated the global mining equipment market.
Article continues below advertisement
Article continues below advertisement
JOY is a part of the WisdomTree SmallCap Earnings ETF (EES) and accounts for 0.78% of the ETF's total holdings. Investors in this ETF may benefit if JOY exhibits operational excellence in the weak and volatile market. Sanderson Farms (SAFM) and EP Energy Class A (EPE) are also among the top ten holdings of EES. They account for 1.0% and 0.84% of EES, respectively.