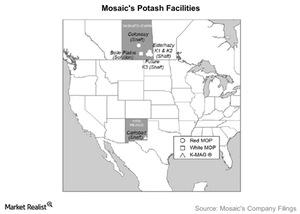 An Overview of Mosaic's Potash Segment Operations
By Adam Jones

Updated
Potash segment
Mosaic's (MOS) Potash segment generated $2.5 billion in net sales, excluding intersegment sales, in 2015. This accounted for 28% of the company's total net sales and 47% of its gross profits. Therefore, this segment is equally as important to Mosaic as its phosphate segment.
Article continues below advertisement
Potash products
MOP (muriate of potash) is the most produced potash fertilizer in the industry (XLB). Mosaic produces different grades of potash fertilizers, including granular and standard grades of red MOP and white MOP. Red MOP has traces of iron oxide, while white MOP has a higher potassium oxide content.
Potash mining
The production of potash products starts with the mining of potash, which in general refers to common salts of potassium. Mosaic's total potash reserves as of 2015 amounted to 2 billion tons. The company states that it has enough potash reserves in Saskatchewan, Canada, to last over a century. In the United States, Mosaic has reserves that can support operations for about 22 years.
Article continues below advertisement
Location of operations
In 2015, Mosaic operated two mines in the United States and three mines in Canada. Together, they accounted for an annual operating capacity of 10.5 million tons, which represented 12% of global capacity, according to the company.
The company produced 8.4 million tons of potash in 2015. Most of Mosaic's potash operations are located in Saskatchewan. PotashCorp (POT) also has a significant presence in the province.
The process
Mosaic uses two methods to mine potash. The first is cutting and crushing potash ore. The second is solution mining, in which heated brine is pumped into a mine, dissolving potash and salts. The solution is then evaporated in a refinery using natural gas to extract potash.
Unlike phosphate, potash production requires only one additional input: natural gas. In 2015, Mosaic purchased 17 million MMbtu (million British thermal units) of natural gas, which is readily available. PotashCorp and Intrepid Potash (IPI) use both mining methods, while Israel Chemicals (ICL) also uses a solar evaporation method.
Next, we'll take a look at Mosaic's potash capacity.