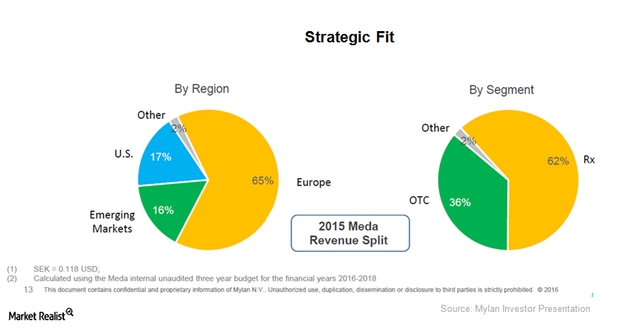 How Is Meda AB a Strategic Fit for Mylan's Business?
By Margaret Patrick

Mar. 28 2016, Updated 2:06 p.m. ET
Acquisition of Meda AB
On February 10, 2016, Mylan (MYL) announced its decision to acquire Meda AB for a consideration of $9.9 billion through a public offer. Unlike the Perrigo (PRGO) deal, this acquisition is expected to complete successfully. Meda's two largest shareholders, who together account for 30% of the company's shares, have already given their approval for the deal.
Post-acquisition, Meda AB is expected to add about $1.1 billion to Mylan's earnings before interest, tax, depreciation, and amortization.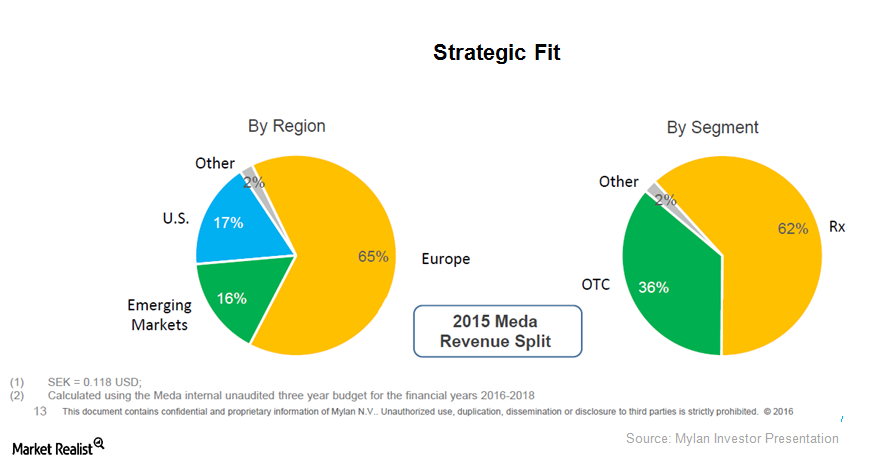 The above diagram shows a revenue breakdown of Meda AB across multiple geographies and product segments in 2015. Mylan's acquisition of Meda is expected to improve its presence in the prescription drug, generic drug, and over-the-counter segments.
Article continues below advertisement
Based on the success of the deal, Mylan has also projected an improvement in its global footprint, with its presence increasing in emerging markets such as China, Mexico, Russia, Southeast Asia, and the Middle East. Peers Pfizer (PFE) and Teva Pharmaceuticals (TEVA) have also been actively involved in expansions into international markets.
Strategic fit
Since 2011. Mylan has worked in partnership with Meda AB, with the latter being responsible for the marketing and distribution of EpiPen in the European market. In 2014, Meda AB announced its acquisition of Rottapharm, an Italian specialty pharmaceutical company. Mylan acquired the generics business of Abbott Laboratories in the same year.
These acquisitions have further added to the infrastructures of both companies, which they can leverage to strengthen the position of the combined company in Europe and other emerging markets.
After the acquisition's completion, Mylan and Meda will own a product portfolio of more than 2,000 products and $1 billion worth of over-the-counter business. Mylan expects that the deal will make the combined company a leader in the global respiratory and allergy market and will boost its market share in the dermatology and pain segments.
If the Mylan–Meda deal proves successful in realizing these projected synergies, it will boost the combined company's share price as well as the price of the iShares U.S. Pharmaceuticals ETF (IHE). Mylan makes up about 3.8% of IHE's total portfolio holdings.
In the next part of this series, we'll explore how Mylan's business will evolve post-completion of the Mylan–Meda deal.