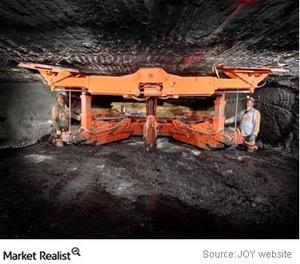 What Is the Market Outlook for Underground Mining Equipment?
About the global underground mining market  
The global underground mining industry is expected to grow at a compound annual growth rate of approximately 7% from 2015 to 2019. The global underground mining equipment market is expected to reach over $24 billion by 2019.
This growth will be due to proactive changes in energy efficiency regulations undertaken by various governments across the globe. This has given an impetus to mining companies for adopting energy-efficient underground mining equipment. Mining companies need to restore to these practices on an urgent basis. Joy Global will be a direct beneficiary of this necessity.
Article continues below advertisement
Regions that will drive future mining demand
Growing mining activities in developing countries of APAC (Asia and Pacific) such as China, India, and Australia will be the major factor influencing the growth of the underground mining equipment industry.
Joy Global's network
JOY has manufacturing facilities in Australia, Canada, China, France, South Africa, the United Kingdom, and the United States. It has sales offices and service facilities in Botswana, India, Poland, and Russia. Its network includes five service centers in the United States and eight outside the United States. All of these centers are strategically located in major underground mining locations.
ETF investments
JOY is a part of the S&P Mid-Cap 400 Pure Value ETF (RFV) and the WisdomTree SmallCap Earnings ETF (EES), accounting for 2.4% and 0.7% of total holdings, respectively. Sanderson Farms (SAFM) and EP Energy Class A (EPE) are also among the top ten holdings of EES. They account for 1.0% and 0.84% of EES, respectively. JOY is also a part of the SPDR S&P 500 ETF (SPY).