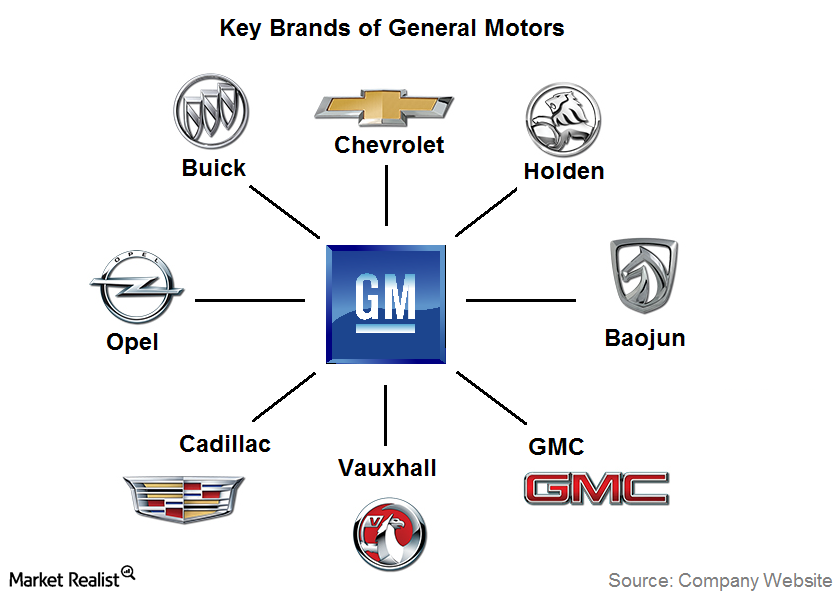 Key Brands Under General Motors' Umbrella
General Motors' key brands
Previously, we discussed how Chevrolet brand has played an instrumental role in the success of General Motors. In this article of the series, we'll have a look at some other key brands under General Motors' (GM) umbrella.
Article continues below advertisement
Cadillac brand
Cadillac is the most popular luxury car brand in General Motors' portfolio. This brand was established in 1902 with the foundation of the Cadillac Automobile Company. Cadillac became a part of GM's portfolio in 1909.
Cadillac brand cars are known to have been used by US presidents for decades. Currently, the brand is also playing an important role in expanding GM's reach in the Chinese market, with high demand from the region. At present under the Cadillac brand, the company offers the 2016 CT6 Sedan, the 2016 ATS-V Coupe, the 2016 Escalade, and the 2016 SRX Crossover, among other vehicles.
Buick brand
Buick is the entry level luxury brand in General Motors' portfolio. The brand was established in 1899 when David Dunbar Buick founded the Buick Auto-Vim and Power Company.
Since the beginning of General Motors in 1908, Buick has been a significant part of its portfolio. Under this brand, the company sells many modern luxury sedans and crossovers cars. Currently, the Buick Enclave, Buick Verano, Buick Regal, and Buick Cascada are some of the key Buick car models offered by GM.
Volkswagen's (VLKAY) Porsche and Daimler's (DDAIF) Mercedes can be seen as the competition to General Motors' vehicles in the luxury car segment.
GMC brand
GMC has manufactured trucks since 1902. It later became an integral part of General Motors' portfolio. During World War II, GMC produced nearly 600,000 trucks to be used by the US military. Even today, the brand is well known in the US market in the full-size truck segment.
However, for more than three decades, the pickup truck segment in the US auto market (VCR) has been dominated by Ford's (F) legacy F-series pickup trucks.
Apart from full-size trucks, General Motors also produces sports utility vehicles under the GMC brand. Currently, the Canyon, Sierra 1500, Denali line, and Savana are some of the key vehicle models that are available under this brand.
Continue to the next article to learn about the key geographical markets for General Motors.