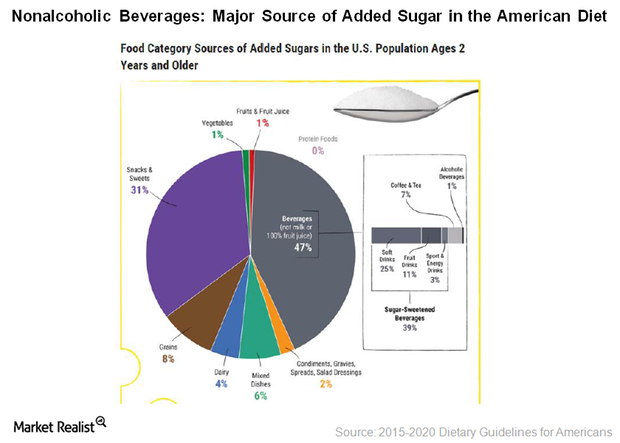 An Insight into Sport Drinks' Positioning in the US Beverage Market
Sports drink demand
Sports drinks meet consumers' energy and hydration needs and especially target athletes and sports professionals. These drinks help replenish the water, electrolytes, and carbohydrates athletes lose.
Article continues below advertisement
Article continues below advertisement
Is it a better choice?
Sports drinks are considered a healthier choice than traditional soda beverages, and they contain less sugar than traditional soda beverages. However, as per the latest health guidelines written jointly by the U.S. Department of Agriculture and the Department of Health and Human Services, "Sugar-sweetened beverages, such as soft drinks, sports drinks, and fruit drinks that are less than 100% juice, can contribute excess calories while providing few or no key nutrients." The report recommends that added sugars—which are present in sugar-sweetened beverages, snacks, and sweets—account for less than 10% of consumers' daily calories. Beverages account for 47% of all added sugars consumed by the US population.
Sports drinks outperformed carbonated soft drinks in 2014. According to Beverage Marketing Corporation, US sports drink volumes grew 3% while carbonated soft drink volumes fell 1% in 2014. The 2014 growth exceeded the 2013 growth of 0.6%. Based on data by Statista, an online statistics portal, per-capita sports drink consumption rose from 4.3 gallons in 2010 to 4.5 gallons in 2014.
Article continues below advertisement
Key brands
PepsiCo's (PEP) Gatorade is the undisputed leader of the US sports drink market. According to Euromonitor International, Gatorade commanded a 77% share of the $6.8 billion US sports drink market in 2014 (Source: the Wall Street Journal). PepsiCo accounts for 4.3% of the iShares Global Consumer Staples ETF (KXI) and 3.6% of the Vanguard Dividend Appreciation ETF (VIG).
Coca-Cola's (KO) Powerade held a 20% market share. In August 2015, Dr Pepper Snapple, the third-largest US soda maker, acquired an 11.7% stake in BA Sports Nutrition, which owns the BodyArmor sports drink line. Dr Pepper Snapple has been distributing BodyArmor as a third-party brand through its direct store delivery network since 2013. This investment should help Dr Pepper Snapple (DPS) capture the sports drink market's growth prospects.
Slowdown in growth
Although sports drinks have been outperforming carbonated soft drinks, their growth has slowed to low single digits from double-digit growth in 2010. This slowdown is because of competition from other beverages that also aim to replenish lost energy, including protein beverages and coconut water.