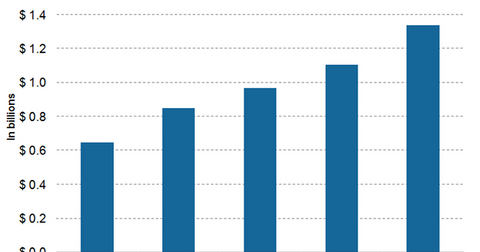 What Will Drive Future Revenue for Celgene's Abraxane?
By Margaret Patrick

Updated
Geographic market expansion
Celgene's (CELG) Abraxane and gemcitabine combination drug therapy is regarded as a standard of care for pancreatic cancer in the United States. It continues to witness a strong uptake in European markets. Abraxane also holds a stable market position in the lung and breast cancer segment in the United States.
In 2015, Abraxane had a year-over-year (or YoY) revenue and volume growth of 14% and 16%, respectively. Celgene expects international markets to fuel the drug's future revenue performance. It has projected Abraxane sales to surpass $1 billion in 2016.
Article continues below advertisement
Wall Street analysts have projected that Abraxane revenues will reach about $1.1 billion in 2016, which is a YoY growth of 14.4%. If Celgene manages to achieve the projected revenue growth rate for Abraxane, despite strong competition in various indications and geographies, it will be beneficial for the share price of the Vanguard Growth ETF (VUG). Celgene accounts for about 1.0% of VUG's total portfolio holdings.
Competitive pressures
Abraxane faced strong competitive pressure after the launch of immune checkpoint inhibitor drugs by peers Bristol-Myers Squibb (BMY) and Merck & Co. (MRK) in the US market in 2015. Sanofi (SNY) and Regeneron are also involved in the development of checkpoint inhibitor drug REGN2810. Celgene witnessed a gradual easing of the pressure in the second half of 2015. It has projected stable revenues for the drug from the US market in 2016.
Label expansion
Based on data from clinical trials, Celgene (CELG) expects Abraxane to become the backbone therapy in multiple combination regimens targeting various immuno-oncology diseases. The company also expects to witness strong data from Phase 3 clinical trials testing the efficacy of Abraxane for lung cancer in 2017 and triple-negative breast cancer in 2018.
Celgene is also exploring Abraxane for the treatment of adjuvant pancreatic cancer. If successful, the label expansion will double the pancreatic cancer opportunity available for Abraxane. Abraxane is also involved in multiple studies testing the use of the drug for treatment of locally advanced pancreatic cancer, non-small cell lung cancer, and early-stage breast cancer.
To know more about Celgene's growth strategy for Abraxane, please read Abraxane Expected to Strengthen Celgene's Oncology in 3Q15.
In the next article, we'll look at Celgene's strategy for its immunology and inflammation drug, Otezla.