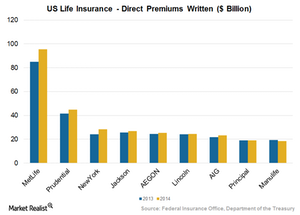 Financial Markets and Reinsurance Impact Life Insurance Growth
By Robert Karr

Mar. 14 2016, Updated 12:23 p.m. ET
Expanding scale
The US life insurance industry is the largest in the world. It garners a total direct written premium of above $600 billion annually. The top ten major players contributed around 55% of the total premium in 2014. This shows room for expansion and more consolidation in the wake of competitive pricing and slowing growth. Over the past few years, the sector expanded due to higher annuity premiums and ceding of a smaller amount of business to reinsurers.
Article continues below advertisement
Life insurance contracts cover financial losses resulting from loss of life of the insured. The contracts are mainly long-term in nature. There are various types of policies including plain vanilla term life policies that provide a payout in the event of the policyholder's death. Some life insurance policies have an investment component such as the unit-linked policies. Life insurance players also offer retirement solutions in the form of annuity products. In the US, close to 55% of the life insurance premiums come from annuity-type products, 24% come from accident and health premiums, and 21% come from life insurance premiums.
Major players
In the US, Metlife (MET) is the biggest life and health insurance player. It has annual premium earnings of ~$100 billion. It's followed by Prudential Financial (PRU) with a life insurance premium of $45 billion. New York Life Insurance Company, Jackson National Life Group, and AEGON have premiums of $25 billion–$30 billion. Other major players in the life insurance industry include Aflac (AFL) and Principal Financial (PFG). In 2015, life insurers' performance was impacted by lower commodity prices, slowing manufacturing, and a strong dollar. Their performance has also been impacted by declining equities and the broad market (SPY). These companies offer investment-linked products such as variable annuities. The payout of these policies is linked to the performance of the financial markets.