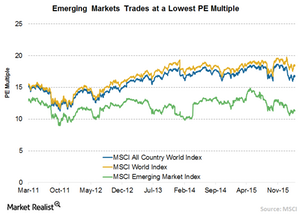 Why Emerging Markets Are Trading at a Discount to Developed Markets
There's Value to Be Found if You Know Where to Look
However, for investors looking to bargain hunt, there are certain segments of the market that are trading at a significant discount. While it may still be too early to pull the purchase trigger, these two segments in particular are worth a closer look.
Article continues below advertisement
1. Emerging Markets
After underperforming for the better part of the past five years, emerging market stocks, as measured by the MSCI Emerging Markets Index, are one of the few, genuinely cheap asset classes. At roughly 1.25x trailing book value, emerging market equities are trading at a level last seen at their trough in early 2009. On a relative basis, using the MSCI World Index as a proxy for developed markets, EM stocks trade at nearly a 35 percent discount to developed markets, the largest such discount since the market bottom in 2003, according to an analysis of data accessible via Bloomberg.
Market Realist – Emerging markets are looking cheap
The last few years have been pretty gloomy for emerging markets because most of them have witnessed a rout in stocks. There are no signs of economic stabilization in many markets, especially in China. And with the US economy doing comparatively well, it could further cause capital flight back to the US from emerging markets.
However, with the recent fall, some of these emerging markets have certainly become very cheap compared to most of the developed markets. The price-to-earnings ratio is much lower for emerging market (IEMG) stocks compared to US stocks. The MSCI World Index is trading at a PE multiple of 18.4x while the S&P 500 is at 17.6x. On the other hand, the MSCI Emerging Market Index is trading at 11.3x.
Article continues below advertisement
Other major emerging markets like China (FXI), South Africa (EZA), and South Korea are trading at respective valuations of 8.7x, 14.2x, and 13.4x, which are lower than the developed markets. It should be noted that emerging markets often trade at a discount to more developed markets just because they price in an overall risky asset discount. However, the current valuation multiple gap is the largest in over a decade.
Moreover, the economic fundamentals of many emerging markets are expected to stabilize over the next few quarters. Though many markets like Russia (ERUS), Brazil (EWZS), and Argentina are heavily dependent on oil income for their economic growth, other major countries like China, India, South Korea (HEWY), and Indonesia import their oil requirements. The low oil prices have helped countries like India (INDY) and Indonesia (EIDO) to lower their fuel subsidies while China is stockpiling its fuel supplies for future needs. Thus, long-term investors who bargain hunt in the emerging market stocks could see positive gains over a longer period.