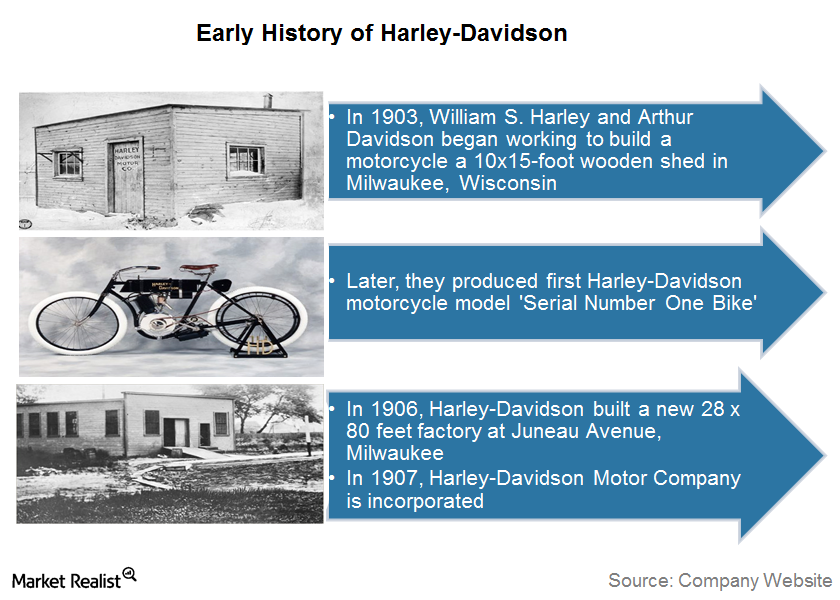 The Early History of Harley-Davidson: The Motorcycle Pioneer
Harley-Davidson Motor Company
When we think about motorbikes, the first brand to come to mind is Harley-Davidson. The brand has become a synonym for power, passion, and class among motorcycle enthusiasts around the world. We'll begin this series by taking a brief look at the history of Harley-Davidson Motor Company (HOG).
Article continues below advertisement
A brief history of Harley-Davidson
In 1901, William S. Harley made a blueprint drawing of an engine that could fit into a bicycle at the age of 21. After two years, William S. Harley along with his childhood friend Arthur Davidson began working to build a motorcycle in 1903.
At the time, they used a small wooden shed in Milwaukee as their factory with "Harley-Davidson Motor Company" scrawled on its door. This was the first little step toward today's motor-bike triumph. The same year, Arthur Davidson's brother, Walter Davidson, also showed interest and joined him in the efforts to build motorbikes.
Note that this was the same year that Henry Ford founded the US auto giant Ford Motor Company (F). However, today's other auto manufacturers (VCR) such as Toyota (TM) and Volkswagen (VLKAY) were founded much later in 1937.
Later in 1903, William and Arthur sold one motorcycle to their school friend, Henry Meyer. The next year, C.H. Lang of Chicago became the first dealer of Harley-Davidson motorcycles.
In 1905, Harley-Davidson Motor Company hired its first full-time employee, which was followed by the hiring of five more full-time employees in 1906. To accommodate increased manpower, the company built a new factory.
In 1907, Arthur Davidson's other brother, William Davidson, also decided to join the business. Harley-Davidson Motor Company was incorporated on September 17 of that year.
Series overview
In this series, we'll discuss how Harley-Davidson's marketing strategy is different from other automakers. We'll also discuss Harley-Davidson's current financial position to help investors make prudent investment decisions. Later, we'll learn about a variety of valuation methods that can be used to value an auto company like Harley-Davidson. In the next article of this series, we'll continue our brief discussion about Harley-Davidson's history.