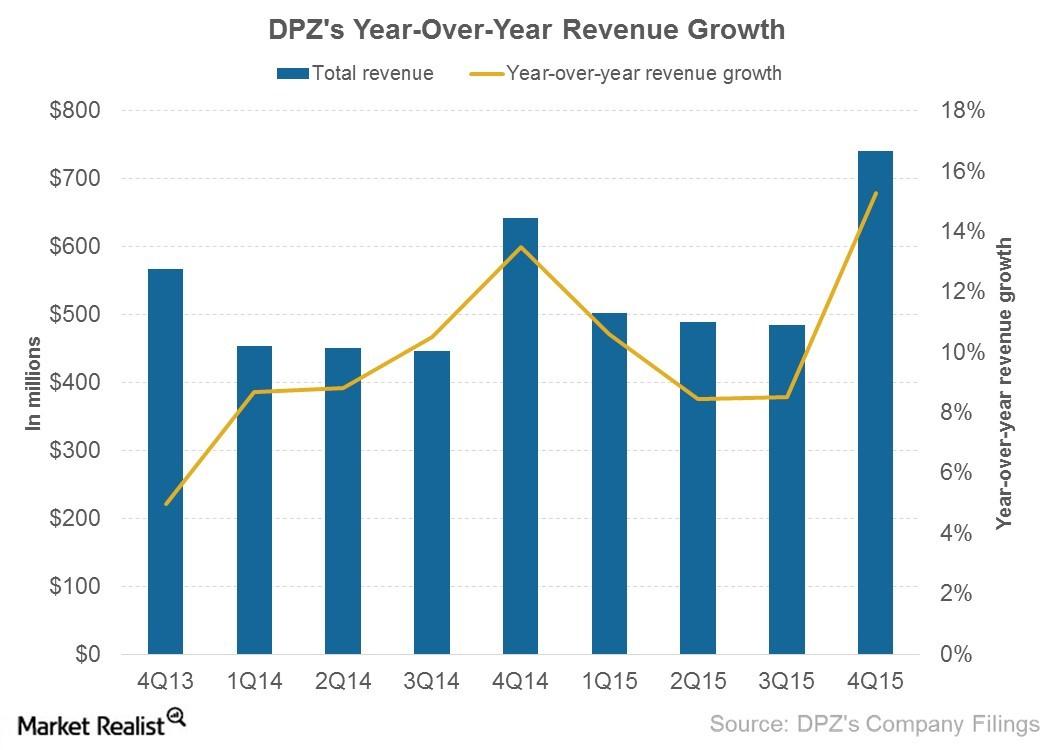 What Contributed to Domino's Pizza's Revenue Expansion in 4Q15?
Revenue sources
Domino's Pizza (DPZ) earns its revenue from domestic company-owned restaurant sales, royalties and franchise fees collected from domestic and international restaurants, and revenue from its supply chain.
Article continues below advertisement
Revenue growth in 4Q15
In 4Q15, DPZ recorded an overall revenue growth of $98.2 million from its 4Q14 revenues of $643 million. The growth in revenues was mainly driven by four factors. First, 4Q15 had one more week than 4Q14, which increased the revenues by $49.7 million. Second, there was an increase in company-operated restaurant sales due to an increase in the total number of restaurants and a positive same-store sales growth. Third, the revenues from the supply chain were boosted by a higher same-store sales growth in the United States and higher equipment sales in the wake of the company's global re-imaging program. Fourth, royalties collected from franchisees also grew, with an increase in both the unit count and the same-store sales growth. However, the growth in revenues from international franchised restaurants was offset by the strong dollar.
You could gain exposure to DPZ by investing in the iShares S&P Mid-Cap 400 Growth ETF (IJK), which has invested 1.1% of its portfolio in DPZ. IJK has invested 0.71% in Panera Bread (PNRA), 0.62% in Dunkin' Brands (DNKN), and 0.43% in Buffalo Wild Wings (BWLD).
Outlook for 2015
With unit growth and same-stores sales growth expected to be positive, analysts are expecting the fiscal 2016 revenue to be at $2.4 billion, a growth of 18.3% from $2 billion in 2015. The re-imaging program, which is to run for another couple of years, is expected to increase supply chain revenues.
Revenues for restaurant companies such as DPZ are generally driven by same-store sales growth and unit growth. Although unit growth was a major contributor to revenue growth between 4Q14 and 4Q15, we'll start with same-store sales growth in our next article. Same-store sales growth increases revenue without increasing the capital expenditure, which is significant in the long run.