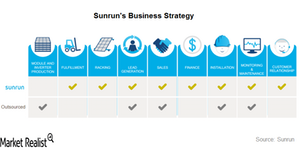 Analyzing Key Elements of Sunrun's Business Strategy
By Sheldon Krieger

Updated
Sunrun's business strategy
The downstream solar (TAN) business is all about capturing market share. Because the solar lease contracts and power purchase agreements (or PPAs) typically last for 20 years, a company with higher market share in the mature stage could make more money than the company with less market share.
Moreover, operating expenses decrease as the company reaches the mature stage, thereby increasing its margins. Therefore, consistent business expansion is crucial for downstream solar companies like Sunrun (RUN), Vivint Solar (VSLR), SolarCity (SCTY), Sungevity, and SolarPower (SPWR).
Article continues below advertisement
Expansion through channel partners
Unlike its peers, Sunrun is building an open platform of services and tools to provide a differentiated customer experience and, at the same time, gaining a wide customer base. It plans to expand its presence in the solar market through partnering with a wide variety of industry partners, new entrants who would like to provide their products and services in a cost-effective manner.
The company continues to invest in its platform and retain promising partners in order to facilitate capital-efficient growth. Through partnering with Sunrun, new entrants are able to use Sunrun's established open platform and tools. Sunrun is able to expand its brand presence and penetrate new markets in a cost-effective way. This looks like a win-win for Sunrun and its partners.
The company launched its certified partnership program on October 29, 2014. As of today, there are more than 75 registered Sunrun Certified partners.
New products and services
Sunrun continues to innovate and expand its product suite. As discussed earlier in this series, the company has recently launched its BrightBox product to reduce demand on existing energy distribution infrastructure by retaining the energy at the location of generation and use.
In the next part of this series, we'll find whether Sunrun's growth rate is sustainable or not.