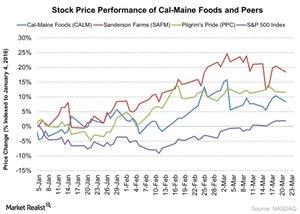 Analyzing the Expectations for Cal-Maine Foods in Fiscal 3Q16
Cal-Maine Foods' fiscal 3Q16 results
Cal-Maine Foods (CALM) will report its fiscal 3Q16 results on March 28. Some of Cal-Maine's recognized brands include Egg-Lands Best, Land O Lake, Farmhouse, and 4-Grain.
Cal-Maine's stock has gained 2% since its last quarter earnings release on December 23. The stock rose 2% after the company reported its fiscal 2Q16 results due to tremendous growth in revenue and earnings.
The stock gained 23% in fiscal 2015 due to positive earnings growth. Cal-Maine Foods has returned 9% year-to-date. It outperformed the Market represented by the S&P 500 Index as of March 23.
Article continues below advertisement
Peers' stock performance
Cal-Maine Foods' main competitors in the farm products industry include Fresh Del Monte Produce (FDP) and Industrias Bachoco (IBA). Other peers such as Sanderson Farms (SAFM) and Pilgrim's Pride (PPC) returned 17.6% and 11%, so far, in 2016. They closed at $88.11 and $24.27, respectively, on March 23. The PowerShares Dynamic Food and Beverage (PBJ) invests 2.5% in Cal-Maine Foods and 2.6% in Fresh Del Monte Produce. PBJ closed at $31.92 and returned -0.87%.
Series overview
With Cal-Maine's fiscal 3Q16 earnings release due next week, we'll focus this pre-earning series on what to expect in the earnings release. We'll cover analysts' revenue and earnings per share estimates. We'll also discuss its growth strategy. Finally, we'll look at the company's valuation multiple, the expected stock price over the next 12 months, and its moving averages.