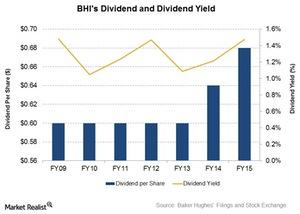 Taking a Closer Look at Baker Hughes' Dividend and Dividend Yield
By Alex Chamberlin

Updated
Baker Hughes' dividend and dividend yield
Baker Hughes (BHI) increased its dividend from fiscal 2013 through fiscal 2015. In fiscal 2015, Baker Hughes' dividend per share (or DPS) increased by 6.3% to $0.68 compared to $0.64 per share dividend in fiscal 2014. Although Baker Hughes' net earnings turned negative in fiscal 2015, strong dividend reflects management's confidence in the company's balance sheet and growth prospect. BHI's industry peer Cameron International (CAM) does not pay dividends.
Article continues below advertisement
Dividend yield, expressed as dividend per share relative to the share price, has generally been on the rise from fiscal 2013 until fiscal 2015. From fiscal 2014 to fiscal 2015, BHI's share price declined 18%, while its DPS increased. BHI's dividend yield increased from 1.2% as of December 31, 2014, to 1.5% as of March 14, 2016.
Earlier, from fiscal 2009 to fiscal 2014, BHI's share price increased by 14%, while its DPS increased 13%. In effect, its dividend yield remained nearly unchanged as of December 31, 2014, compared to six years ago.
Will Baker Hughes increase its dividend?
Halliburton proposed to acquire Baker Hughes in November 2014. Under the merger agreement with Halliburton, Baker Hughes agreed not to increase the quarterly dividend while the merger is pending. Baker Hughes also agreed not to repurchase any shares of common stock. Baker Hughes comprises 0.11% of the SPDR S&P 500 ETF (SPY).
Next, we will discuss Baker Hughes' historical valuation multiples.