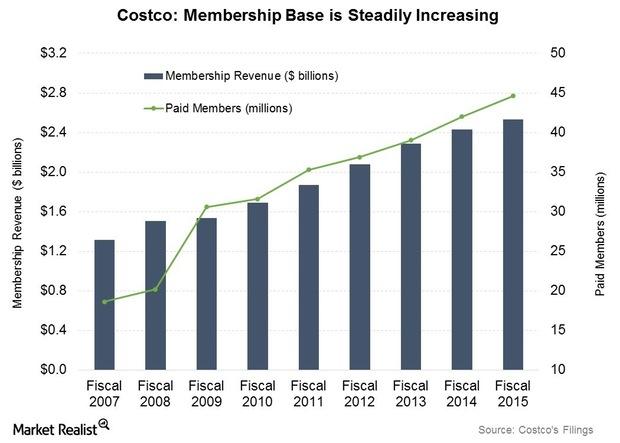 What's Driving Record Membership Loyalty at Costco?
Costco's membership growth
Costco Wholesale (COST) has grown paid memberships at a CAGR (compounded annual growth rate) of 7.1% over the past five years to 44.6 million in fiscal 2015. Costco has grown membership revenue to $2.5 billion in fiscal 2015, a CAGR of 8.4%. By contrast, Wal-Mart (WMT) has grown membership and other income to $3.5 billion in fiscal 2016, implying a five-year CAGR of 3.9%.
Costco and Wal-Mart together constitute 2.6% of the portfolio holdings in the First Trust Consumer Discretionary AlphaDEX(R) Fund (FXD), and 2.5% of the portfolio holdings in the SPDR S&P Retail ETF (XRT).
Article continues below advertisement
Membership renewal rate
Costco also has a high membership renewal rate. More importantly, the company has been able to steadily increase the renewal rate in the US and Canada from 88% in fiscal 2010 to 91% in fiscal 1Q16. Globally, the renewal rate has risen from 86% in fiscal 2011 to 88% in fiscal 1Q16. Both rates are new records for the retailer.
By contrast, PriceSmart (PSMT), which operates warehouse clubs in Central America and the Caribbean, has a renewal rate of 85%. A high renewal rate and membership loyalty.
Analyzing Costco's cardholder strategies
In contrast to other conventional retailers (RTH) (XRT) like Dollar Tree (DLTR), Dollar General (DG), Kroger (KR), and Whole Foods Market (WFM), Costco Wholesale (COST) operates as a membership warehouse club, meaning that customers have to sign up as members and pay an annual membership fee in order to shop in its stores. In return, members can shop for a wide array of quality merchandise at highly competitive prices.
Membership attractors and traffic trends
As discussed in part two, fuel sales represent big traffic and membership drivers compared to the competition. But Costco's value-added proposition encompasses a wide range of merchandise and ancillary services. Consider the following:
Costco sold about 156,000 karats of diamonds in fiscal 2015, up 21% YoY (year-over-year).
Costco sold ~303,000 hearing aids in fiscal 2015, up 15% YoY. Some of its digital hearing aid kits are priced 47%–66% lower than the competition.
Costco also sold 486,000 cars under its auto program in fiscal 2015, up 14% YoY, while car rentals were up 37% to 2.3 million.
These services, along with Kirkland Signature, Costco's private-label brand, are likely to result in significant future traffic growth for the retailer. Continue to the next part for this discussion.