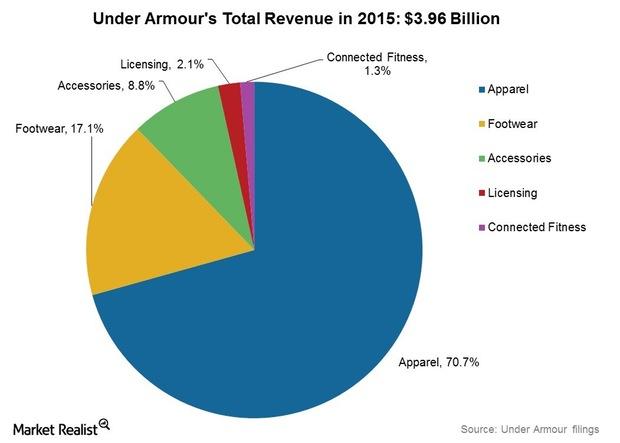 Under Armour Partners with IBM and SAP to Widen Connected Fitness Potential
Sales and growth under Connected Fitness
Under Armour's (UA) revenues from its Connected Fitness initiative came in at $53 million in 2015, which was up from $19 million in 2014. Specifically, the company's revenues (IWF) (IWB) were boosted by the two Connected Fitness app purchases, Endomondo and MyFitnessPal. Under Armour paid a total of $560 million for these two companies, and these acquisitions impacted the company's 2015 income by $23 million, including transaction costs, operating losses, and amortization of intangibles. The impact was $0.10 on 2015 EPS (earnings per share).
Article continues below advertisement
Article continues below advertisement
User base
Under Armour's registered user base under its Connected Fitness platform grew by about 10 million registered users (since September 2015) to almost 160 million users at the end of 2015. According to the company's CEO, Kevin Plank, "Before Connected Fitness, we only had retail transaction information for less than 10 million people, that's stores and e-commerce combined." Now, Plank added, Under Armour has "daily activity level data from our community members, who logged nearly 8 billion foods and 2 billion activities last year alone."
The platform currently accounts for just over 1% of the company's annual sales, but the company plans to raise the contribution from this segment, through higher digital sales and licensing revenue as well as through better potential access to new industries like health and fitness and food and nutrition.
Additionally, Plank pointed out that the majority of this platform's users are women, noting that "on e-commerce, women's was our number one in largest selling and fastest-growing category that we had, faster than men's and faster than youth."
Article continues below advertisement
Partnerships with IBM and SAP
Earlier this year, IBM and UA announced a partnership with IBM's (IBM) Watson, to provide personal consulting services to Under Armour Record users, via the Cognitive Coaching System. The system provides users with coaching tips that are backed by data that tracks parameters like the athlete's activity, nutrition, sleep, and fitness.
According to Plank, Under Armour is also collaborating with SAP (SAP) to build a consumer platform that will combine data from both point-of-sale and digital transactions in an effort to give detailed consumer insights and enable informed decision making.
By comparison, Nike (NKE) provides the Nike + Running Coach to digital users who've downloaded the Nike + Running app. This app can set up a training schedule based on running data provided by the athlete. Nike also has Trainer's Hub, which helps athletes connect to the right trainer in its digital community and ask questions via chat.
Now let's look at Under Armour's 4Q15 earnings per share relative to its profitability.