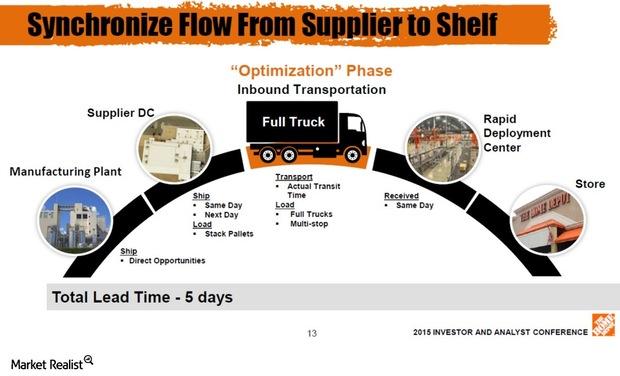 Supply Chain Sync: HD's New Tool to Optimize Inventory Flow
Home Depot realizes savings from supply chain changes
The Home Depot's (HD) supply chain management and inventory (VCR) turnover is one of the best in the industry. The company has spent considerable time and resources over the past several years in rationalizing its supply chain network. It's centralized its inventory and supply chain and built larger fulfillment capabilities with an eye on speed.
According to Mark Holifield Home Depot's executive vice president of Supply Chain & Product Development, "First, and most importantly, our in-stocks are better than ever. Second, we've improved our inventory productivity substantially. In fact, on a per store basis, with roughly the same sales per square foot now, our inventory at cost is about $1 million per store lower than it was in 2006."
Article continues below advertisement
Article continues below advertisement
Faster inventory turnover
These initiatives, along with the use of its rapid deployment centers, have resulted in the company's ITR (inventory turnover ratio) rising from 4.4x in fiscal 2012 to 4.9x in fiscal 2015. Efforts towards optimizing the supply chain have benefited the company's margins by 48 basis points over the same period, according to chief financial officer Carol Tomé. The ITR is expected to come in at 4.8x in fiscal 2016.
But HD is planning to raise inventory turns even further, to 5.7x, over the next three years. This is likely to further benefit profitability and the bottom line. Most of the increase in the ITR is slated to be driven by the company's programs supply chain synchronization, which is currently in pilot mode.
Peers Lowe's (LOW), Restoration Hardware (RH), and Williams-Sonoma (WSM) reported inventory turnover ratios of 4.1x, 2.3x, and 3.4x, respectively, in the last fiscal year. Wayfair (W), which ships products directly to customers from its vendors, keeps minimal inventory. As a result, its ITR in the last fiscal was the highest among its peers, at nearly 58x.
Article continues below advertisement
Supply chain synchronization
Supply chain synchronization aims to optimize the logistics of getting products moving along the supply chain to stores or customers in the shortest and most cost-effective manner. It involves extensive data collaboration between HD's stores, warehouse network, and vendors, with a view to reducing lead times. The project could reduce inventory lead times by several days.
Enhanced fulfillment and revenue options
As part of its interconnected retail strategy, HD also plans to introduce the buy-online-deliver-from-store fulfillment option. This will provide the retailer the ability to deliver online orders to brick-and-mortar stores, which will have fulfillment options including delivery to the customer. HD makes up 1.8% of the portfolio holdings in the SPDR S&P 500 Growth ETF (SPYG).