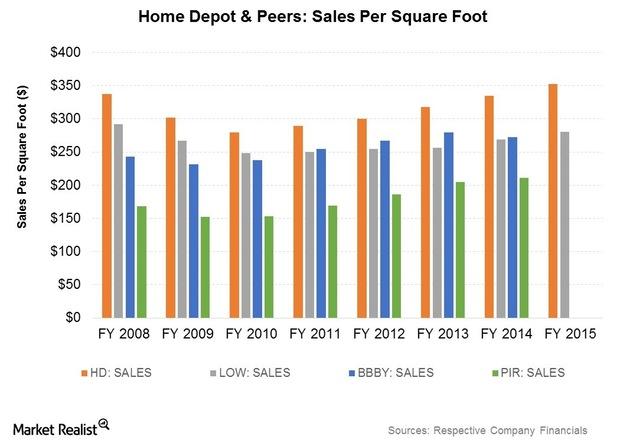 Home Depot Profits from Sound Supply Chain Management
By Phalguni Soni

Mar. 26 2015, Updated 5:06 p.m. ET
Managing inventories at Home Depot
Home Depot's (HD) supply chain is getting more productive, resulting in better gross margins. Inventory management is key to the company's operations. Each Home Depot store stocks about 30,000 to 40,000 different products. An enhanced selection of about 700,000 products is available through the company's websites, www.homedepot.com and www.homedecorators.com.
This massive online selection is an important differentiator between Home Depot and other home improvement (XHB) (ITB) retailers. It allows for greater product customization and also reduces the space requirement at stores, not to mention how it improves sales productivity metrics.
Sales per square foot at HD and Pier 1 Imports (PIR) has risen, but the metric hasn't shown much traction at archrival Lowe's (LOW) or Bed Bath & Beyond (BBBY). It's still below pre-recession levels at LOW.
Article continues below advertisement
Improved inventory turnover
Home Depot has launched two programs to speed up order pickup time and save on storage and costs:
Buy Online Ship-to-Store
Buy Online Pickup-In-Store
HD's distribution process has also undergone changes, resulting in better in-stock rates and inventory counts. As well, the company is now conducting stock-taking on days the stores are closed, so the customer's shopping is uninterrupted. These initiatives, coupled with those designed to better forecast demand, have resulted in improved inventory turnover. The metric improved from 4.2x in fiscal 2010 to 4.9x in fiscal 2015.
Supply chain revamps
HD is investing aggressively in new logistics capabilities and IT infrastructure. The company has invested considerably in technology to optimize product selection in stores and cater to local preferences. At the same time, it has expanded its online array. In 2012, the company acquired BlackLocus to analyze complex merchandising data and make the best pricing decisions.
Home Depot also wants to determine the optimal distribution network for fulfilling orders through rapid deployment centers, or RDCs. RDCs make ordering and distribution more efficient by aggregating orders and simplifying the logistics process. HD has 18 RDCs in the US and one in Canada. It plans to open another shortly in Canada. It has also opened two new direct-to-consumer fulfillment centers, with a third one underway. These centers give HD the capacity to deliver 90% of US orders within two days.