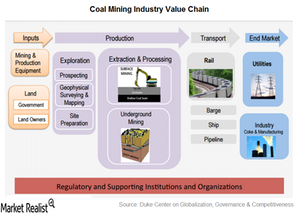 Analyzing the Coal Mining Industry Value Chain
Broad structure
Coal (KOL) mining is a capital-intensive industry. A wide variety of auxiliary industries both help and depend on the coal mining sector across its value chain.
Article continues below advertisement
Production
Depending on the method of mining, production involves site leveling, surveying, planning, drilling, and blasting activities. Trimble Navigation (TRMB) and Garmin (GRMN) provide a wide variety of surveying instruments to the mining industry.
Geovia Surpac, owned by Dassault Systems (DASTY), and Micromine are among the top providers of geology and mine planning software solutions. Drilling and blasting are the core activities of the production process. The coal mining industry is the largest consumer of industrial explosives in the United States.
DYNO NOBEL, Accurate Energetic Systems, Orica USA, and Austin Powder Company are among the leading explosive and blasting agent suppliers to the mining industry in the United States.
Article continues below advertisement
Transportation
After mining, the coal is crushed and stacked in stockyards. The crushed coal is then reclaimed and sent to the end user by truck, ship, railcar, or barge. Coal can also be transported through pipelines. The crushed coal is mixed with water or oil to form slurry and then sent through a pipeline to the end user.
The mode of coal transportation chiefly depends on the distance to be covered. Conveyors or trucks are preferred for short distances. Trains, barges, or pipelines are used for longer distances.
CSX (CSX), BNSF Railways, Norfolk Southern (NSC), and Union Pacific (UNP) are some of the major rail providers for coal transportation.
End markets
Coal's end use depends on the coal type. Power utilities consume thermal coal while steelmaking usually uses metallurgical coal. Coal is an essential ingredient in the production of activated carbon, carbon fiber, and silicon metal. Coal also finds its end use in alumina refineries, paper manufacturers, and in chemical and pharmaceutical industries.
Major power producers include Duke Energy (DUK), NextEra Energy (NEE), Southern Company (SO), Dominion Resources (D), and American Electric Power Company (AEP). Major steelmakers include Nucor (NUE) and U.S. Steel (X).