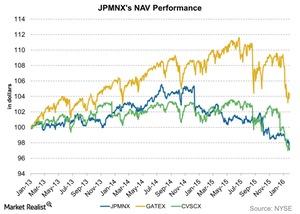 How Has JPMNX Performed Relative to Its Peers?
By Ivan Kading

Nov. 20 2020, Updated 2:17 p.m. ET
JPMNX's investment methodology
The JPMorgan Research Market Neutral Fund Institutional Class (JPMNX) is an alternative fund that replicates the "market neutral" hedge fund strategy while generating returns for its investors. According to its principal investments strategies, the fund takes long (or buy) and short (or sell) positions in securities from the Russell 1000, whose market capitalization ranges from $1.6 billion–$545 billion, and from the S&P 500 (VFINX) in the range of $2 billion–$650 billion.
Article continues below advertisement
For short positions, JPMNX invests in securities from a universe of mid- and large-capitalization stocks. The fund purchases securities that its managers believe to be undervalued and sells short securities that managers believe are overvalued. This means that in rising equity markets, the fund's long position will generate profits, whereas the fund's short position will be beneficial during falling markets.
The graph below gives a NAV (net asset value) performance comparison of JPMNX with the Gateway Fund Class A (GATEX) and the Calamos Market Neutral Income Fund Class C (CVCSX) during the period of January 2013–January 2016.
Performance comparison
It can be noted from the graph that JPMNX suffered a reduction in its NAV during the specified period. GATEX, on the other hand, managed to generate positive returns for its investors, whereas CVCSX was the worst performer.
The significant holdings of JPMNX fund include Avago Technologies (AVGO), Lam Research Corporation (LRCX), Alphabet (GOOG), and Facebook (FB) among others.
The drawbacks of a market neutral strategy
The market neutral strategy seeks to reduce the volatility of a fund, but doing so may considerably reduce the profit generating potential of the fund. For instance, during a bull market, when most equity securities and long-only mutual funds are galloping ahead in returns, the fund's short positions will likely cause the fund to underperform the overall US equity market and long-only mutual funds.
Now let's look at the moving average trends and future price estimates of JPMNX's top holdings.