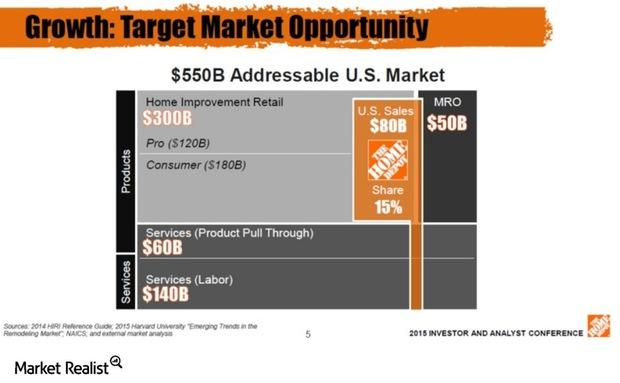 How Home Depot Is Leveraging the Pro Customer Opportunity
Medium-term sales growth drivers
The Home Depot (HD) is expecting sales of $88 billion in fiscal 2016, up by 5.7% year-over-year. The company is also hoping to raise its top line by $13 billion to $101 billion over the next three years. To that end, it's looking at providing curated products and services to both its DIY (do-it-yourself) and professional customers. HD also expects some of the growth in fiscal 2016 and in the future to stem from its $1.7 billion acquisition of Interline Brands completed last year, which we'll discuss in part seven.
Unlike competitors Wayfair (W) and Williams-Sonoma (WSM), which cater primarily to retail customers, Home Depot and Lowe's (LOW) target their products and services to both retail and professional customers.
HD and LOW together constitute 2.3% of the portfolio holdings in the First Trust Consumer Discretionary AlphaDEX ETF (FXD), and 2.0% of the holdings in the iShares S&P 100 ETF (OEF).
Article continues below advertisement
Article continues below advertisement
Market size and opportunity
Home Depot estimates the size of its overall market in the United States to be $550 billion, of which the retailer has a 15% market share. The total market consists of home improvement retail of $300 billion, services of $140 billion, product pull-through from services of $60 billion, and maintenance, repair, and operations of $50 billion.
Professional customer sales growth
Driving growth from sales to professional, or pro, customers is a key growth opportunity for the world's largest home improvement (ITB) retailer. According to Marc Powers, Home Depot's executive vice president for U.S. Stores, although pros account for about 3% of HD's customer population, they account for about 40% of the retailer's sales.
Pros are also a recurring source of transactions and traffic for the retailer, compared with DIY customers. To that end, HD has looked at several attractors aimed at this customer segment, including providing more pro-centric merchandise assortment, delivery options to job sites, dedicated cashiers for pros, and greater speed at checkout. In the next article, we'll analyze how HD is widening its opportunity set with the pro customer.