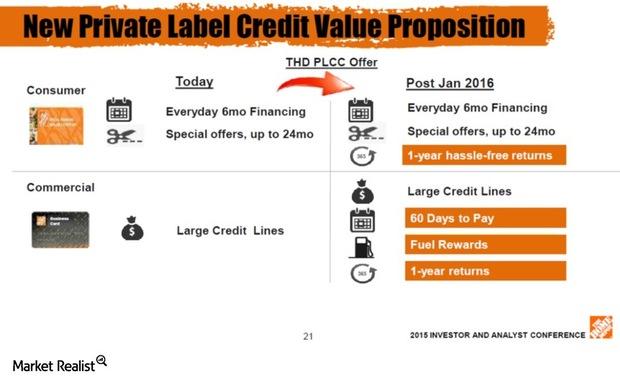 How Home Depot Drives Membership Loyalty With Pro Customers
Installation services and sales
The Home Depot's (HD) focus on the pro customer allows the retailer to compete in the installations market and the product demand the services create. According to Bill Lennie, Home Depot's executive vice president of Outside Sales & Service, HD completes about two million installations each year through the HD network of about 100,000 pros. Besides, installations help attract DIFM (do-it-for-me) clientele, an increasingly important element of HD's customer base as the US population ages.
Article continues below advertisement
Article continues below advertisement
Pro Xtra loyalty card
Home Depot (HD) also has a loyalty program for pros, Pro Xtra, which provides additional member benefits such as purchase tracking, exclusive offers, and rewards points, among others.
According to Bill Lennie, pro customers who have signed up for the Pro Xtra program tend to spend about 18% more at HD in the first year. Pro Xtra members also tend to transact over twice as much as non-members. HD currently has about 3.4 million members on the program.
Rival Lowe's (LOW) also has its own pro-focused loyalty program. It also has a dedicated website for its pro customers. Pros account for about 30% of Lowe's sales.
Credit financing
Home Depot also has a private label credit card program in collaboration with Citigroup (C) that is available to both do-it-yourself and pro customers. Sales on the credit card accounted for about 23% of HD's sales in fiscal 2015, on about 11 million accounts.
In 2016, HD has expanded the financing services available to pro customers. In addition to regular benefits, it's offering pro customers the option of 365-day returns, fuel discounts, and a credit period of 60 days.
HD and LOW together constitute 8.1% of the portfolio holdings in the iShares U.S. Home Construction ETF (ITB), and 1.3% of the holdings in the iShares Core S&P 500 ETF (IVV).