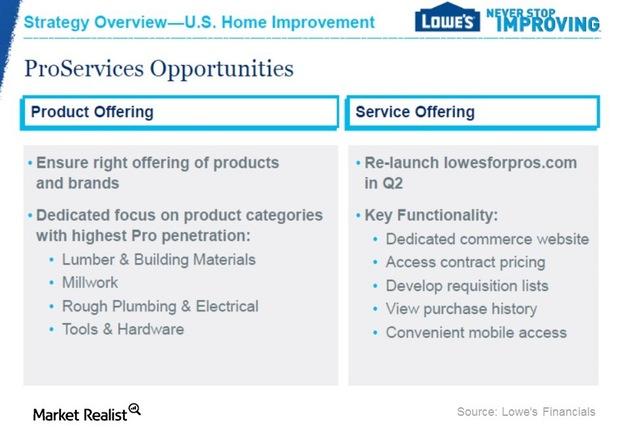 Why Lowe's Is Trying Hard to Woo Professional Customers
Lowe's customer base: analyzing the sales drivers for the professional customer
A pro customer is one who's looking for products to complete projects for other customers. Lowe's categorizes its pro customer into two types: professionals involved in construction (ITB) and professionals dealing with the repair and maintenance side of operations. The revenue share from pro customers at both Lowe's and Home Depot is rising, and both companies believe they can further grow contributions from this segment.
Article continues below advertisement
Repeat visits
The pro customer is an important sales driver for Lowe's (LOW). Although only about 30% of sales stem from these customers, they're a vital element for driving recurring purchases at the retailer. In comparison, pro customers account for about a third of rival Home Depot's (HD) sales. Both Lowe's and HD derive a greater share of revenue from this customer segment compared to companies like Williams-Sonoma (WSM) and Bed Bath & Beyond (BBBY), which cater primarily to the retail customer.
Big-ticket transactions
Big-ticket items are growing faster than Lowe's overall sales growth average. In 3Q16, the company reported a 7.2% increase in the number of transactions with a ticket size in excess of $500. In contrast, the company's overall sales rose by 5%.
As discussed in the last article, pro customers account for a relatively greater share of big-ticket transactions for Lowe's. They account for about 40% of the total number of transactions above $500. Due to this and the recurring purchase factor, Lowe's has worked hard to woo this customer segment.
Customer attractors
Lowe's has steadily expanded its merchandise assortment by brand and product, which would likely appeal to the pro customer type. It also has specialized executives called Account Executives ProServices who are responsible for ensuring that customers get the products they need. These executives meet customers either at project sites or at their place of work.
Lowe's also relaunched its website for pros, www.lowesforpros.com, last year. The new portal makes it easier for pros to manage orders and requisition lists online.