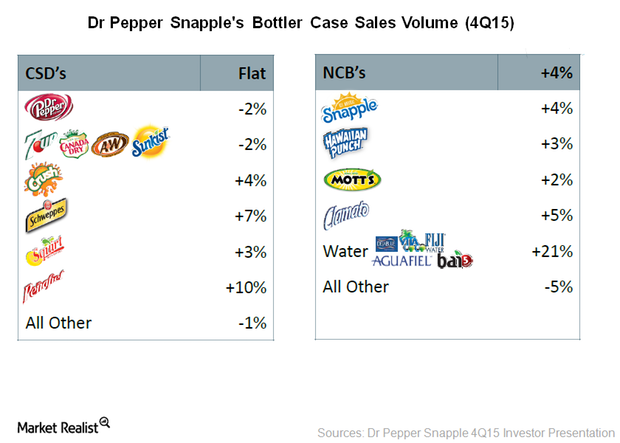 Did Dr Pepper Snapple's Non-Carbonated Beverages Call the Shots in 4Q15?
Non-carbonated beverages dominate
Non-carbonated beverages like bottled water and ready-to-drink tea are showing strong momentum as more and more consumers are moving away from CSDs (carbonated soft drinks) toward healthier choices.
Dr Pepper Snapple (DPS) saw higher volume growth in non-carbonated beverages in all the quarters of fiscal 2015 compared to CSDs. In 4Q15 ended December 31, 2015, Dr Pepper Snapple's overall bottler case sales volumes grew by 1%. CSD volumes were flat in the fourth quarter, but its non-carbonated beverage volumes increased by 4%.
Article continues below advertisement
CSD volumes
Dr Pepper Snapple's CSD volumes were flat in 4Q15 as a strong 10% growth in the carbonated mineral water brand Peñafiel, a 7% growth in Schweppes, and positive performance by other brands like Squirt and Crush. This was offset by lower volumes of Dr Pepper and the company's Core 4 Brands.
The 2% decline in the company's Dr Pepper brand was a result of continued declines in the diet version and in its fountain food service performance. Volumes of Dr Pepper Snapple's core four brands—7UP, Canada Dry, A&W, and Sunkist—declined by 2% because the mid-single-digit increase in Canada Dry was offset by lower volumes of its other three core brands.
Non-carbonated beverage volumes
The 4% growth in Dr Pepper Snapple's non-carbonated beverage volumes in 4Q15 was driven by its water category. The water category posted a 21% volume growth in 4Q15, driven by strong growth in Bai brands, FIJI, and the company's Aguafiel brand in Mexico.
Volumes of the company's juice and tea brand, Snapple, grew by 4%, driven by distribution gains and innovation. Hawaiian Punch, Clamato and Mott's posted volume growth of 3%, 5%, and 2%, respectively, in 4Q15. Dr Pepper Snapple constitutes 0.3% of the iShares Russell Mid-Cap ETF (IWR).
Peers experiencing a similar trend
Overall, Dr Pepper Snapple's bottler case sales volumes increased by 2% in 2015, with CSDs registering a 1% volume growth and non-carbonated beverage volumes increasing by 4%. Non-carbonated or still beverages also dominated volume growth for the Coca-Cola Company (KO) and PepsiCo (PEP) in 2015. In the case of Coca-Cola, sparkling beverages posted a 1% volume growth compared to a 5% growth in still beverage volumes in fiscal 2015. Volumes of PepsiCo's North America Beverages segment increased by 1% in fiscal 2015. This growth was driven by a 6% rise in non-carbonated beverage volumes, partially offset by a 2% decline in CSD volumes.
Unlike soda beverages, Monster Beverage (MNST) is enjoying strong volumes in its energy drink brands. The company posted a 19% sales growth in 3Q15, driven by the strong demand for energy drinks.
The next part of this series discusses Dr Pepper Snapple's earnings in 4Q15.