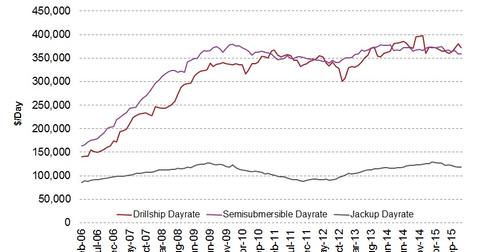 Day Rates and Lifelines of Offshore Drilling Companies
By Sue Goodridge

Updated
Oil rig day rates
Offshore Drilling (XLE) companies such as Rowan Companies (RDC), Ensco (ESV), Seadrill (SDRL), Diamond Offshore (DO), Noble Corporation (NE), Transocean (RIG), and Ocean Rig (ORIG) rent out rigs to their customers and charge a rate known as day rate for this service. Day rate refers to the daily rental fee charged to oil drilling companies, but this rate includes only the rig and labor costs—not the other costs related to construction, such as equipment rent and chemicals, among others.
As we discussed previously in this series, day rates are impacted by the demand and supply of rigs. As the demand rises, day rates go up, and as the demand falls, day rate goes down.
Article continues below advertisement
Day rates and rigs
Different types of rigs command different day rates. For example, day rates for floaters are much higher than day rates for jack-ups, and the rate of increase in day rates has been much higher for floaters than for jack-ups. This is because the day rate for floaters is highly influenced by rig specifications.
Over the years, with different generations of semisubmersibles coming up, rigs have become more technologically advanced, with greater water depth capability and greater carrying capacity. Also, semisubmersibles are now equipped to operate in harsh environments, and with these advancements, day rates have increased much more for semisubmersibles than for jack-ups.
Other factors affecting day rates
Even in the same category of rigs, different water depth capabilities cause day rates differ. The higher the water depth capabilities, the higher the day rates. But day rates are also impacted by region, especially in the jack-up market. Historically, we've seen rates in the Gulf of Mexico and the Persian Gulf stay lower than in the North Sea, and because water depths vary from region to region, the utilization rate of each region is different, further affecting day rates.
Day rates are also affected by the age of the rig in question, including the specifications of the particular rig and the job it undertakes. There is a negative relation between rig age and day rate, which implies that companies with younger fleets receive higher day rates. Appraisal drilling is more technically challenging as well, and this generally receives a higher rate than development or exploratory drilling.
Now let's connect rig count and day rates with oil prices for another piece of the larger offshore oil drilling picture.