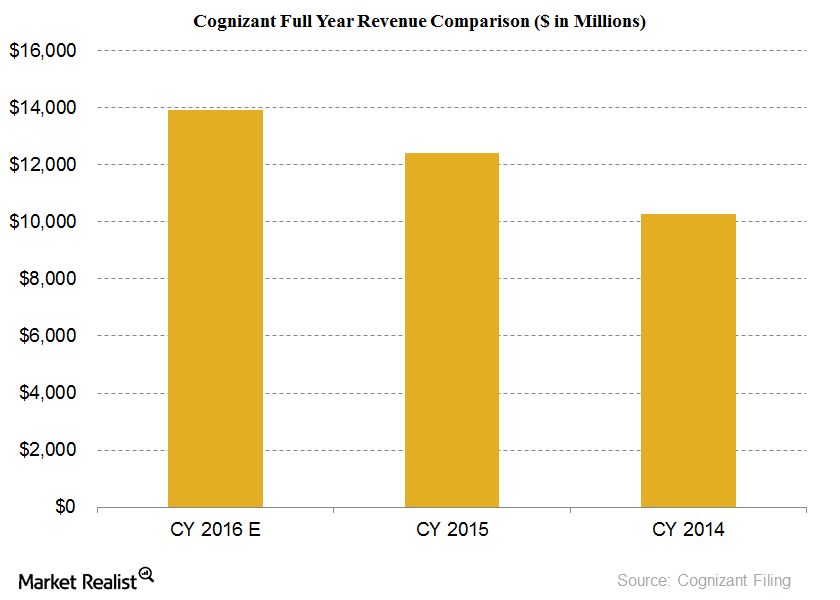 How Cognizant Hopes to Increase Market Share in 2016
Cognizant's full-year revenues increase 21% YoY
Cognizant's (CTSH) revenues in 2015 rose by an impressive 21% to $12.4 billion from $10.3 billion in 2014. GAAP (generally accepted accounting principles) net income was $1.6 billion, or $2.65 per diluted share, compared to $1.4 billion, or $2.35 per diluted share, in 2014. Non-GAAP EPS (earnings per share) was $3.07 in 2015 compared to $2.6 in 2014. While the GAAP operating margin was 17.3%, non-GAAP operating margin stood at 19.7% for 2015.
Article continues below advertisement
Article continues below advertisement
"In 2015, we strengthened our position as a leading digital transformation partner for our clients," said Gordon Coburn, the company's president. "While digital opportunities significantly expand our addressable market, our rapidly growing consulting, infrastructure and business process services and geographic market expansion, continue to be solid drivers of demand for our services. Combined with our strong entrepreneurial culture and our agility, we are confident of winning market share and being the partner of choice for our clients."
1Q16 and full year outlook
In 1Q16, Cognizant expects revenues of ~$3.2 billion with non-GAAP EPS of $0.78 to $0.80. Full-year 2016 revenues are expected to be in the range of $13.7 billion to $14.2 billion with non-GAAP EPS between $3.32 and $3.44.
Analysts estimated revenues of $3.3 billion and EPS of $0.8 in 1Q16. They estimated revenues of $14.1 billion with EPS of $3.45 in 2016. Shares of Cognizant fell by 7.7% on February 8, 2016, to $54.05 as the firm forecasted its lowest revenue growth in 14 years.
Shares of peer companies such as Accenture (ACN), IBM (IBM), and India's (EPI) Infosys (INFY) fell by 3.9%, 0.27%, and 0.8%, respectively, on February 8, 2016.