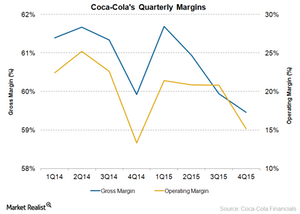 Coca-Cola's 4Q15 Operating Margin Rose on Productivity Measures
Margins in 4Q15
In 4Q15 ended December 31, 2015, Coca-Cola's (KO) gross margin fell by 40 basis points to 59.5% due to fewer selling days, currency headwinds, and structural changes. However, Coca-Cola's operating margin improved significantly to 15.2% in 4Q15 from 13.3% in the comparable quarter of the previous year.
Article continues below advertisement
Operating margin growth drivers
The significant improvement in Coca-Cola's operating margin in 4Q15 was driven by the company's productivity initiatives. Under Coca-Cola's ongoing productivity program, the company aims to generate $3 billion in annualized productivity savings by 2019. The company's productivity initiatives include restructuring of its global supply chain, implementation of zero-based budgeting across the organization, streamlining the company's operating model, and driving efficiency in direct marketing investments.
Despite its productivity measures, Coca-Cola's gross as well as operating margin had declined significantly in 3Q15 due to the impact of currency headwinds and structural changes. Coca-Cola's 3Q15 operating margin came in at 20.8%, ahead of PepsiCo's (PEP) and Dr Pepper Snapple's (DPS) operating margins of 8.7% and 20.7%, respectively. Monster Beverage (MNST) reported an operating margin of 38.5% in 3Q15.
Coca-Cola and Monster Beverage together constitute 1% of the iShares Russell 1000 ETF (IWB).
Impact of refranchising on productivity
We discussed Coca-Cola's decision to accelerate the refranchising of its North America operations in part two of this series. This decision will also have an impact on the company's productivity program. In the 4Q15 conference call, Coca-Cola's chief financial officer Kathy N. Waller stated that about half of its $3 billion productivity program was expected to come from supply chain savings with a significant portion of those savings expected to come from North America. However, due to the decision to accelerate its refranchising, the company will no longer be able to capture a portion of the identified supply chain savings prior to divestiture. The company plans to identify incremental opportunities for productivity within cost of goods sold, operating expenses, and marketing to meet its $3 billion productivity goal.