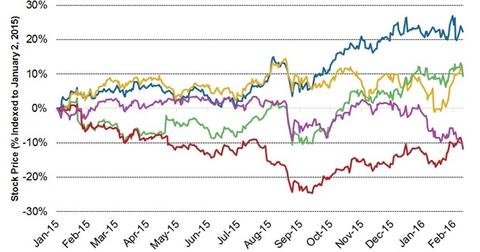 Why Did Clorox's Stock Price Fall in Fiscal 2Q16—after Beating Earnings?
By Penny Morgan

Updated
Clorox's stock performance
The Clorox Company's (CLX), or Clorox's, stock price fell after it released its fiscal 2Q16 earnings, dropping by 4.9% to $124.71 on February 4, 2016. Clorox's stock had been consistently moving up since the beginning of 2015, but then the stock fell by almost 7.3% to $109.60 on September 4, from $118.21 on August 7. The fall was primarily due to currency headwinds and the fall in global markets, particularly in the Asia-Pacific region. Still, the company's stock was able to sustain most of its gains until December 17, 2015, when it touched $131.34.
Article continues below advertisement
Stock price versus peers
Clorox's stock has gone up by 22.3% since January 2, 2015. By comparison, the benchmark S&P 500 Index (SPY) (IVV) (VOO) has gone down by ~10%, and peers Church & Dwight's (CHD) and Kimberly-Clark's (KMB) have gone up by 10.3% and 12%, respectively, over the same period. Notably, stock prices of Procter & Gamble (PG) and Colgate-Palmolive (CL) have fallen by 8.6% and 4.3%, respectively, over that period.
Share repurchase
During fiscal 2Q16, Clorox did not repurchase any shares. However, in fiscal 1Q16 Clorox repurchased about one million shares of its common stock at a cost of about $112 million to offset stock option dilution. Clorox's debt-to-EBITDA ratio was 1.8x, below its target range of 2x–2.5x in fiscal 1Q16.
Stronger US dollar
Clorox's selling and administrative expenses as a percentage of sales were flat at 14.2% in fiscal 2Q16, while its advertising and promotional investments for fiscal 2Q16 represented 9% of sales. With the ongoing strengthening of the US dollar, the company plans to closely monitor the possibility of worsening exchange rates in the balance of the fiscal year.
In addition, the positive uptrend that can be seen in its market share, Clorox plans to address potential heightened competitive activity in the second half of its fiscal 2016. These activities will include key categories like Bags & Wraps, Litter, and Home Care.
Now let's look at Clorox's gross margin in fiscal 2Q16.