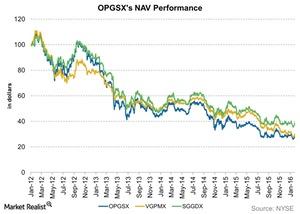 An Analysis of OPGSX's Investment Methodology
By Ivan Kading

Nov. 20 2020, Updated 2:36 p.m. ET
Industry-wide plus company-specific approach
Gold and other precious metal markets are tumbling. The falling prices of gold have also affected the performance of companies involved in its processing and distribution. The Oppenheimer Gold & Special Minerals Fund – Class A (OPGSX) takes an alternative approach to investing in precious metals and related securities. The fund uses a combination of top-down (or industry-wide) and bottom-up (or company-specific) approaches to identify prospective stock. To boost the performance of the fund, the fund manager mainly searches for high-quality mining companies with multiple projects and diversified regional exposure.
Article continues below advertisement
Performance comparison
A performance comparison based on the net asset value of OPGSX and similar strategy funds, the Vanguard Precious Metals and Mining Fund – Investor Shares (VGPMX) and the First Eagle Gold Fund – Class A (SGGDX), is given in the chart above. All three precious metal funds have suffered a severe setback over the specified period. Among the three funds, OPGSX has dropped the most. OPGSX, VGPMX, and SGGDX have recovered well in 2016, with weekly returns of 9.6%, 9.7%, and 8.3%, respectively, as of January 29, 2016. The top holdings of the fund include Newcrest Mining (NCM), Tahoe Resources (TAHO), Goldcorp (GG), Randgold Resources (GOLD), Franco-Nevada (FNV), and Regis (RGS).
Gold risk
Investing in gold and other precious metals can be risky as they are not qualified as regulated investment companies under the Internal Revenue Code, which makes them applicable for additional income taxes. This reduces the returns to shareholders. Also, the metals and mining sector is extremely vulnerable to the changing international monetary policies, as they can affect the supply of gold and precious metals. The next article of this series gives a moving average trend analysis of OPGSX's top holdings.