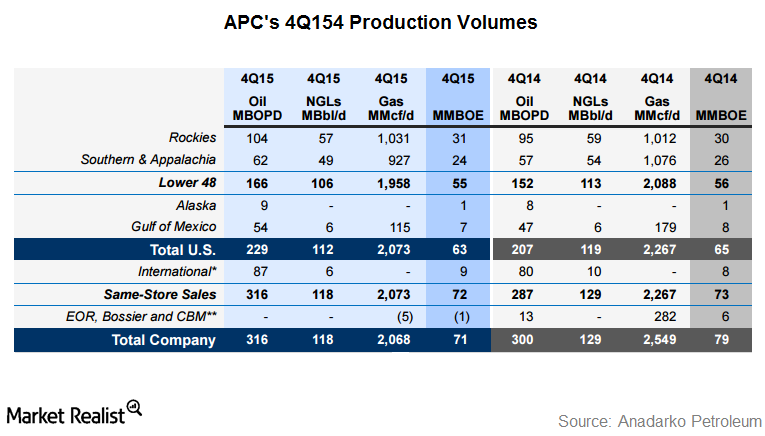 Anadarko Petroleum Slashes Its 2016 Capital Expenditure Budget
Anadarko's Petroleum's key operational highlights 
Anadarko Petroleum (APC) total production volume in 2015 was 305 MMboe (million barrels of oil equivalent), or an average of 836,000 boepd (barrels of oil equivalent per day). In 2014, APC's production was 308 MMboe. Its 4Q15 production volume was 71 MMboe, or an average of 779,000 boepd. Its 4Q14 production volume was 79 MMboe.
Article continues below advertisement
Article continues below advertisement
APC reduced its 2015 capex and guidance for 2016
Anadarko Petroleum's 2015 spending was ~40% less than its spending in 2014. The majority of these reductions came from the company's short-cycle projects. APC will remain focused on long-term opportunities such as deepwater projects in 2016. Its preliminary capex (capital expenditure) budget for 2016 is $2.8 billion—nearly 50% less than 2015 levels.
Companies such as Chesapeake Energy (CHK), Hess (HES), and Marathon Oil (MRO) also reduced their 2015 capex figures by ~46%, 16%, and 46%, respectively. These companies combined make up ~5% of the Energy Select Sector SPDR Fund (XLE).
APC's other 2015 highlights
In 2015, Anadarko Petroleum added 407 MMboe of proved reserves before the effects of price revisions. This made it possible to achieve an organic reserve replacement ratio of more than 130%. The company's total proved reserves in 2015 were ~2.1 billion barrels of oil equivalent, comprising 52% liquids and 48% natural gas.
Additionally, in 2015, Anadarko Petroleum closed on $2 billion of asset monetizations.
CEO's comments
During the 4Q15 earnings call, R.A. Walker, Anadarko Petroleum's CEO, stated, "These achievements position us well to manage through the market uncertainty and volatility we see in the coming years." Speaking about the company's financial position, Walker said, "We plan to continue actively managing our portfolio this year and have other monetizations identified which will be pursued through the course of the year. The quality of our balance sheet remains a key objective."