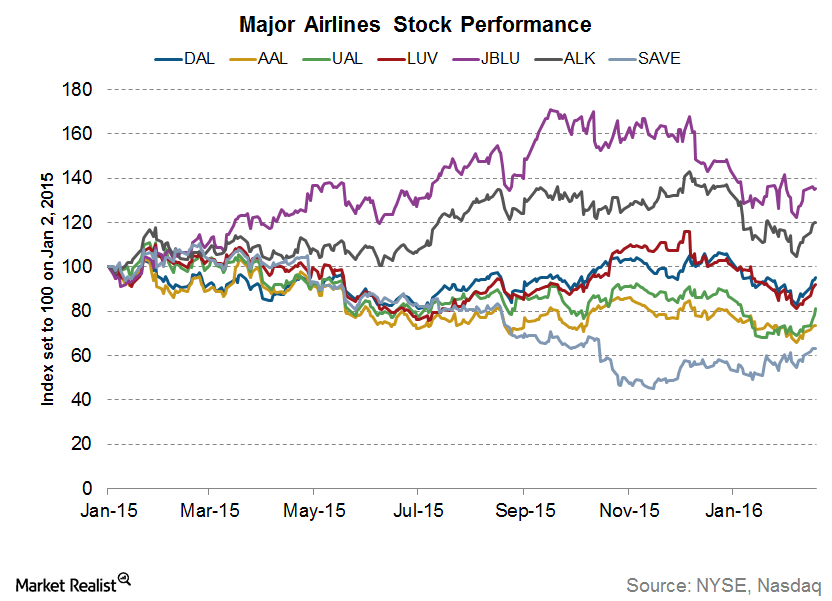 Why Airlines Got off to a Bad Start in 2016
The US airline industry
2016 has been the worst start for the S&P 500 in the past eight years. Falling crude prices, corporate profits in the red, tepid economic data, and global turmoil have all contributed to this performance. Last week saw a small rally as oil prices surged, helping reduce concerns of a global slowdown.
However, despite the rally, the broader market tracked by the SPDR S&P 500 ETF (SPY) has slipped by about 6% since the start of the year.
Economic growth is a major factor impacting airline industry demand. The industry has closely tracked the Market in the past. In this way, US airline stocks also saw a bad start to the year. The Dow Jones U.S. Airline Index (DJUSAR) has fallen by 4% year-to-date (or YTD).
Since air travel is a discretionary type of spending, it makes sense to compare airline industry performance to the consumer discretionary sector. The Consumer Discretionary Sector SPDR ETF (XLY) has fallen by 6% during the same period.
Article continues below advertisement
Legacy versus regional carriers
Stocks of legacy carriers such as United Continental Holdings (UAL), American Airlines (AAL), Alaska Air Group (ALK), and Delta Air Lines (DAL) have all fallen since the start of 2016. ALK saw the highest fall of 10%, followed by AAL at 5%, UAL at 4%, and DAL at 4%.
Among regional carriers, Southwest Airlines (LUV) was the worst performer, losing ~5% YTD after seeing the highest gain of 44.4% in 2015. Allegiant Travel Company (ALGT) also lost ~4% YTD, while JetBlue Airways (JBLU) was flat. Spirit Airlines (SAVE) was the only airline to see a gain, rising 17% YTD, after seeing its highest fall of 43% in 2015.
Series overview
In this series, we'll help you to make informed investing decisions about US airline stocks. We'll discuss key indicators and what they mean for investors. For January updates, you can read US Airline Industry Insight January 2016: Time to Hit the Brakes?