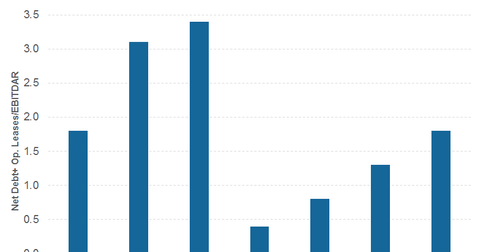 Which Airline Has the Highest Leverage?
By Ally Schmidt

Mar. 1 2016, Updated 8:08 a.m. ET
Airline comparison
The airline industry is a capital-intensive industry with heavy investments required in building infrastructure, fleets, and their maintenance. As a result, airline stocks generally have high levels of debt on their balance sheets. Spirit Airlines has the lowest leverage among its industry peers.
Airlines often make use of operating leases for their most expensive purchase—aircraft. Operating lease is an off–balance sheet financing item, where an asset is leased for a period less than its economic life without any transfer of ownership.
We will compare the airlines' leverage on net debt plus operating leases/EBITDAR, which incorporates the effects of operating leases on an airline's balance sheet.
Article continues below advertisement
As can be seen from the above chart, at the end of 4Q15, United Continental (UAL) had the highest leverage of 3.4x, followed closely by American Airlines (AAL) at 3.1x. Both Spirit Airlines (SAVE) and Delta Air Lines (DAL) have a leverage of 1.8x while JetBlue Airways (JBLU) has a leverage of 1.3x. Southwest Airlines (LUV) had a leverage of 0.8x and Alaska Air Group (ALK) has the lowest leverage of 0.4x.
Why pay attention to leverage?
Leverage tends to make a stock volatile, which increases the risk for investors.The airline industry's fundamentals have improved tremendously, and margins are expected to have reached their peak. If margins decline as analysts estimate, it would mean reduced cash flows. This would make it difficult to make interest payments and leave little to nothing on the table for investors.
On the other hand, if airlines manage to maintain this balance between debt and cash, it would put them in a much better position than their peers with significant debt.
Investors can gain exposure to airline stocks through the SPDR S&P Transportation ETF (XTN).