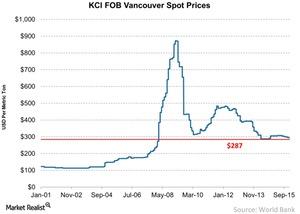 Will Potash Prices Continue to Fall in 2016?
What we can say about potash producers, at least
The most commonly used potassium (K on the periodic table) fertilizer is KCl (potassium chloride), which is also known as the "muriate" of potash. The largest producers of potassium, which is simply known as potash, fertilizers in the world include Potash Corporation (POT), the Mosaic Company (MOS), Uralkali, and Belaruskali. The Market Vector Agribusiness (MOO) invests about 13.6% of its investments in POT, MOS, Agrium (AGU) and CF Industries (CF).
Article continues below advertisement
Watching the fall of potash prices
Since most of Potash Corporation's and Mosaic's operations are in Canada, we have used the spot prices at the Vancouver port. Potash prices over the past few years have been considerably lower than what we saw during their peaks of ~$482 in 2011 and ~$870 in 2009. As of January 18, 2016, the spot price of KCl (potassium chloride or muriate of potash) at Vancouver FOB (free on board) was $295 per metric ton. This is just about 2.8% higher than the resistance of $287, as the chart above shows.
Gauging our outlook of the price of potash
According to the quarterly World Bank's Commodity Outlook fertilizer prices in 2016 are expected to stabilize. While the price of standard grad KCl, as of January 18, was $295 per ton, the World Bank expects 2016 potash prices to be around $301 per ton. Around September 2015, Macquarie Group's analyst forecasted that potash prices would fall to $254 per metric ton in 2016.
We should bear in mind that these prices may vary according to the region where they are being sold. For example, Mosaic's (MOS) MOP (muriate of potash) average selling price per ton at FOB (free on board) plant in North America was $293, while in the international market, was $236 per ton in the most recent quarter ending September 30, 2015. Notably, the average selling price per ton for Potash Corporation (POT) in North America was $283 per ton as of the quarter ending September 30.
For more analysis, check out Market Realist's Agricultural Fertilizers page.