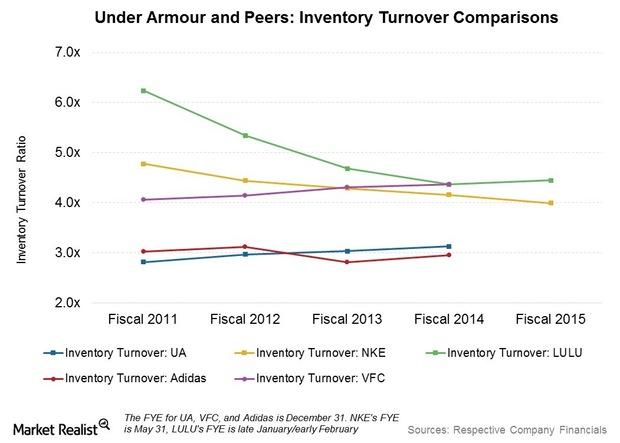 What's Different about Under Armour's Inventory Management?
Speed to market
Under Armour (UA) anticipates higher inventory growth over the next few quarters according to Brad Dickerson, former chief financial officer of UA. This is partly due to the company's initiatives to deliver products to customers faster on a season-to-season basis.
UA has made a number of changes on the inventory and supply chain side. It's been developing products four times each year, double its previous amount of two according to Henry Stafford, UA's chief merchandising officer. As a result, its speed to market for 2016 is expected to reduce by ten weeks. This could imply targeted and more frequent product collections.
Article continues below advertisement
Product assortment
UA is also looking to localize its product assortment, both by channel and by geography. This is particularly relevant as UA sees higher growth in international operations and expands its distribution in North American retail (XRT) doors and online.
Supply chain enhancements
UA is also looking at tightening its supply chain by shortening lead times for raw materials procurement and enhancing the connectivity of the manufacturing process. It's also looking to have a stricter set of dates by which inventory reaches the shop floor, and it's exploring ways to directly ship to customers from its source, according to Dickerson.
Article continues below advertisement
SAP engagement
UA is collaborating with SAP (SAP) (SAP.DE) to provide enterprise resource planning (or ERP) solutions for inventory optimization, process improvements, and improved cost management. On the inventory side, the biggest benefit is expected to come from higher inventory visibility across selling channels and geographies.
The first phase of implementation is expected to commence in 1Q17 according to comments by Paul Fipps, chief information officer at UA.
Other companies in the industry implementing ERP solutions include Adidas (ADDYY) (ADS.DE) and Columbia Sportswear (COLM).
Implications
Under Armour's inventory turnover ratio is one of the lowest among the peer group considered. The company clocked an inventory turnover ratio (or ITR) of 3.0x in 2015. In comparison, the ITR came in at ~4.0x for Nike (NKE), 4.5x for Lululemon Athletica (LULU), 3.2x for Columbia Sportswear, and 4.4x for VF Corporation (VFC) in their most recent respective fiscal years.
Speed to market and focused assortments are major demand drivers for apparel (XLY) and footwear companies. Besides, faster inventory turnover can reduce working capital requirements. UA's inventory management initiatives are important cost-cutting tools that could result in higher inventory turnover, a more efficient supply chain, and lower costs over the long-term.