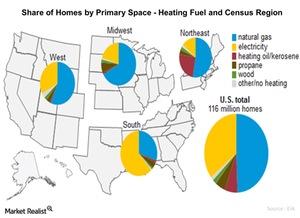 US Households Prefer Electricity and Natural Gas for Home Heating
Heating fuels
The utilization of various fuels for heating differs generally across the United States. Approximately 116 million homes use natural gas, propane, electricity, and heating oil for home heating. Natural gas is used as heating fuel in 48% of the homes across the country, electricity is used for heat in 38% of homes, and the rest of the fuels are used for heating in the remaining 14% of homes.
Article continues below advertisement
Region-wise share of heating fuels
The Northeast, Midwest, and West regions rely on natural gas to heat more than 60% of homes, whereas the South region uses electricity as a primary source for heating. Heating oil and kerosene usage has decreased gradually except in the Northeast region.
In the 2015–2016 winter season, the number of homes using natural gas for heating has remained stable at an estimated 58,908 households, and the numbers of households relying on wood and electricity for heating space have increased by 1.4% and 2.4%, respectively. However, the numbers of households using propane, heating oil, and other sources for heat have decreased by 2.5%, 3.7%, and 1.8%, respectively. These figures have decreased due to the mild weather. Further, households have transitioned from heating oil to natural gas due to its lower price. They've also shifted to electricity because of greater convenience and less maintenance.
The decreased number of households using heating oil and propane as a heating fuel puts pressure on prices because of lower consumption volumes, which adversely impact oil producers and refineries such as Apache (APA), Tesoro (TSO), Phillips 66 (PSX), Chevron (CVX), Valero Energy (VLO), and Marathon Petroleum (MPC).
The iShares U.S. Energy ETF (IYE) invests 2.4% of its holdings in Valero Energy (VLO).
Find more updates on home heating expenditures in the next part of this series.