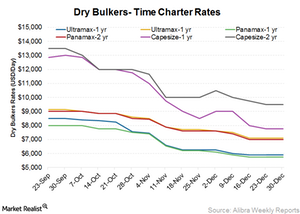 Dry Bulk Time Charter Rates Paint a Grim Picture
Time charter contracts
Under time charter (or TC) contracts, vessels are hired for a specific period at a pre-decided daily rate. Rising TC rates give a brighter outlook for the dry bulk industry, and vice versa.
Article continues below advertisement
Article continues below advertisement
Tanking TC rates
TC rates for dry bulk vessels have fallen considerably over the last few months. According to Alibra Shipping, Capesize one-year TC rates have fallen by 40% in the last three months to $7,750 per day. Panamax and Ultramax one-year TC rates have fallen by 28% and 31%, respectively, to $5,750 and $5,900 per day, respectively.
Dry bulk companies such as Navios Maritime Partners (NMM), Navios Holdings (NM), Safe Bulkers (SB), and Diana Shipping (DSX) try to lock in higher time charter rates whenever possible. However, not many companies like locking in rates at such a low point. Safe Bulkers' management said in the company's 3Q15 earnings call that since long-term charters aren't available at this low point in the market, the company will keep on operating between the spot market and the short-period market.
Shipping companies make up 19.7% of the Guggenheim Shipping ETF (SEA). Investors interested in broad exposure to industrials can invest in the SPDR Dow Jones Industrial Average ETF (DIA).
Forward freight agreements
An FFA (forward freight agreement) is a forward contract used to hedge exposure to freight market risk. These rates shouldn't be seen as what future rates will be. But they can be used as a tool to gauge market sentiment. If the rate for renting a ship and service in a forward contract is higher than the current rate, it's often a positive indication that shipping rates will rise. Higher shipping rates mean higher revenues, earnings, and free cash flows, and vice versa.
FFA rates are higher than the current rates. For Capesize, FFA rates are $5,400 per day and $6,100 per day in 1Q16 and 2Q16, respectively. This compares to ~$4,000 per day in December 2015. FFA rates for other vessels are also higher for two forward quarters.