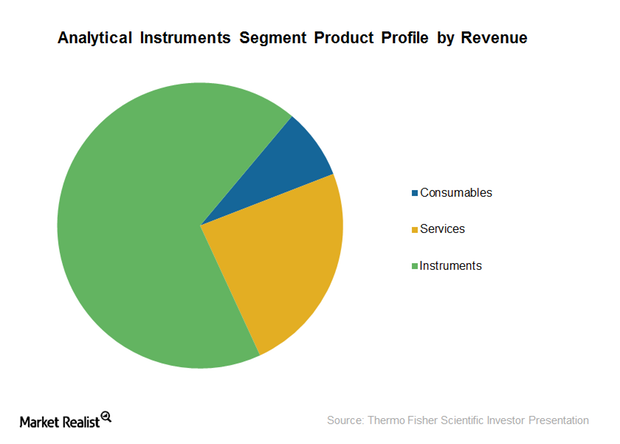 Thermo Fisher Scientific's Analytical Instruments Business Segment
Overview
Thermo Fisher Scientific's (TMO) Analytical Instruments segment consists of two business divisions: Chromatography and Mass Spectrometry, as well as Chemical Analysis. The company's Analytical Instruments segment earned revenues of ~$3.3 billion in 2014, representing organic growth of around 4%.
This segment mainly provides instruments, comprising 68% of the total revenues generated by the Analytical segment of Thermo Fisher. Services and Consumables generate 24% and 8% of the total segment revenues, respectively.
Article continues below advertisement
Chromatography and Mass Spectrometry
Chromatography refers to the technique of separating the different components of a mixture. Mass spectrometry is the technique used to identify and analyze compounds in a mixture by forming charged ions.
Thermo Fisher Scientific provides analytical instrumentation and products, including laboratory information management systems (or LIMS), chromatography data systems (or CMD), automation systems, database analytical tools, and some related consumables. Chromatography and mass spectrometry products generate around 62% of the total segment revenues.
Chemical Analysis Instruments
Chemical analysis products are used to analyze the composition of materials for workflow optimization or government regulation and safety standards compliance. These products comprise five types of instruments:
materials and minerals instruments
molecular spectroscopy instruments
portable analytical instruments
radiation measurement and security instruments
environmental and process instruments
One of the recent applications of the analytical products of Thermo Fisher is the analysis and detection of the presence of glutamate and sodium in Nestle's Maggi Noodles. Mixed mode Acclaim Trinity P1 column was used to perform the chromatographic separation.
Thermo Fisher Scientific's (TMO) major competitors in the Analytical Instruments segment include Agilent Technologies (A), Illumina (ILMN), and GE Healthcare, which is a subsidiary of General Electric (GE). Investors seeking exposure to Thermo Fisher Scientific can invest in the iShares US Healthcare ETF (IYH). TMO accounts for 1.9% of IYH's total holdings.